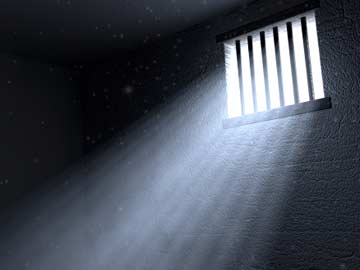 New York:
A New Yorker who spent 29 years in prison for kidnap and murder walked free on Wednesday after a judge overturned his conviction, saying it was based on a false confession.
David McCallum, who was 16 when he was arrested in 1985, broke down after Brooklyn Supreme Court Judge Matthew D'Emic exonerated him. The packed courtroom broke into applause on hearing the ruling.
McCallum and Willie Stuckey, also 16 at the time, were arrested for the October 20, 1985 kidnapping and murder of 20-year-old Nathan Blenner in Queens.
The next day, children found Blenner's body on disused land in Brooklyn. He had been shot once in the head.
The two teens were arrested shortly afterward and confessed to the crime. They were convicted the following year and sentenced to 25 years to life in prison.
Stuckey died in prison. His mother sat next to McCallum in court, gripping his hand and comforting him as the judge overturned the indictment.
She later left the court in tears, refusing to talk to the media.
McCallum, dressed in a white shirt, beige jacket and khaki pants, emerged from court with a smile and hugged his overjoyed family.
"I feel like I want to go home, finally," he told reporters, admitting that he had at times lost hope of being freed.
"I'm very, very happy but I'm very, very sad at the same time," he said, adding he wished that Stuckey were walking free with him.
His first wish was to walk on the sidewalk, and then go home and enjoy his mother's cooking, he said. He had no special requests, saying that after 29 years of prison food, anything would be wonderful.
"My mom is such a great cook... She does it all very, very well so... I'm sure by the time we get home I'll think of something," he said.
His mother Ernestine, who rushed to embrace her son in the corridor, said she had been late because she was baking cakes and cooking her son's homecoming dinner.
"I kept praying and hoping for this day to come," she said.
10-month probe to vacate sentences
A jury convicted McCallum and Stuckey in October 1986 of second-degree murder, kidnapping, robbery and criminal possession of a weapon.
The Brooklyn district attorney's office launched an investigation in January and concluded after 10 months that their confessions were false and that there was no evidence linking the men to the crime.
D'Emic overturned the verdicts after Brooklyn District Attorney Ken Thompson asked the Brooklyn Supreme Court to vacate the sentences and free McCallum.
Since Thompson took up his post in January, dozens of cases -- mainly homicides -- are being reviewed by a special unit headed by a Harvard law professor.
The unit's investigation had concluded that the confessions by McCallum and Stuckey were "false and not supported by physical or testimonial evidence," Thompson said.
So far, the unit's investigations have led to the vacation of nine convictions, while 17 others have been deemed valid.
McCallum told reporters that he wanted to finish his education and speak out in public against wrongful convictions, which he feared would continue to occur.
"It is a system that is clearly broken in my opinion but it doesn't mean it can't be fixed," he said. "I think people need to pay more attention to those individuals who cry for help."
It was not immediately clear if or when prosecutors would reopen Blenner's homicide file.