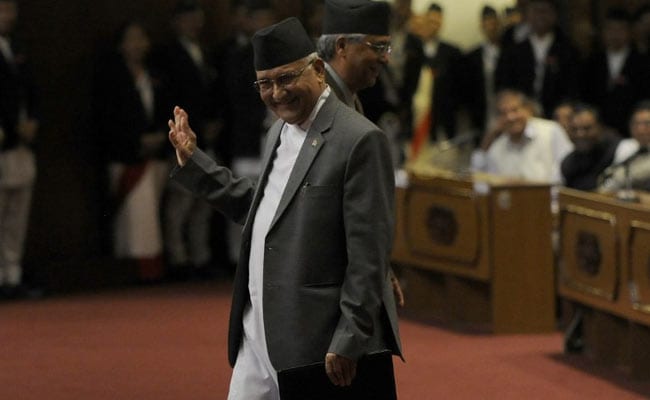 Highlights
KP Oli stepped down as Nepal PM ahead of a looming trust vote
Oli's popularity was fading amid greater preference for China over India
Oli's moves against Madhesis, redrawing provices had led India to step in
New Delhi:
Nepalese Prime Minister KP Oli, seen as steering the Himalayan nation closer to Beijing than New Delhi,
has stepped down
. And in his resignation, some diplomatic observers see a vindication of India's foreign policy.
Major political parties like the Nepali Congress, Maoist Communist party (CPN-MC) and the CPN-United came to together to raise combined strength of 292 in the 598 member Constituent Assembly by Sunday, against Mr Oli's party which has 175 seats - far fewer than the 299 needed to win a vote of confidence.
One of the reasons for Mr Oli's waning popularity was his tilt towards Beijing, sending India-Nepal relations into a free-fall. The redrawing of the provinces in Nepal, marginalising the Madhesi community added to the bitterness and India was forced to step in.
Mr Oli used India's support for the Madhesi community to justify his pro-China policy. But sourcing essential commodities through the Tibetan Plateau and reducing its dependence on India turned out to be difficult and impractical.
Realising the futility, China, also advised Mr Oli to mend his relationship with India, sources have said.
His failing to honour a power-sharing agreement with the Maoist party and his policies made his coalition partners uncomfortable.
First to quit to the coalition, even before the vote of no-confidence was put to vote, was the Rastriya Prajatantra Party (RPP) which had a dozen seats in the Parliament. Following the RRP, the MJAF(D) led by Bijay Gachehedar switched sides and supported the no-confidence motion. These desertions open the flood gates. Others soon joined in.
Key political figures like Prachanda, who led the charge against Mr Oli and is seen as the frontrunner the PM's chair, advocated a much more balanced and nuanced foreign policy where India had larger role to play.
Besides the pro-China policy, Prachanda also pointed to Mr Oli provoking the Madhesi community as one of the main reasons for asking him to step down. In his intervention during the no-confidence vote, senior Nepali Congress leader Minendra Rizal said Mr Oli's description of the Madhesi as "foreigners" was misplaced nationalism.
Mr Oli stepping down vindicates India's stand. New Delhi wasn't shy of intervening on behalf of the Madhesi community or making it clear that it wasn't happy with Mr Oli's policies.
As Oli leaned towards China, Prime Minister Narendra Modi and the National Security Advisor, Ajit Doval had come in for criticism.
The opposition was quick to point that the Modi government's policy had pushed Nepal to China's lap. Today's development will surely come as boost to India foreign policy which has consistently advocated more moderate and inclusive policies in Nepal.