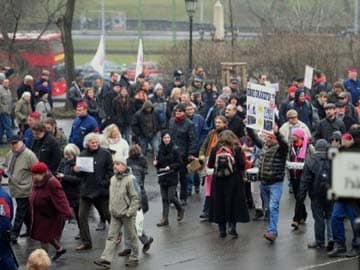 Budapest:
Hungary's largest Jewish organisation Mazsihisz said on Sunday it was pulling out of a Holocaust memorial year, accusing Prime Minister Viktor Orban's government of "ignoring" the sensitivities of survivors.
"Under the current circumstances, Mazsihisz (Federation of Hungarian Jewish Faith Congregations) is withdrawing from the government's Holocaust 2014 programme," the group said in a statement.
The programme marks the 70th anniversary of mass deportations of Hungarian Jews to Nazi death camps in 1944, but has fuelled suspicions that the government is downplaying Hungarians' own role in the deportations - and resultant deaths of an estimated 450,000 Jews.
"The programme ignores the sensitivities of those who suffered the horrors of the Holocaust," Mazsihisz said, adding that it would only take part in the memorial year if the government "changes how it works".
It called on Orban to scrap a government plan to erect a monument marking the country's invasion by Nazi Germany in 1944.
Mazsihisz says the monument - a German imperial eagle attacking a seven metre-tall (22 feet) Archangel Gabriel representing Hungary - is aimed at absolving Hungarians from blame for the Holocaust.
In January, 26 Hungarian historians signed an open letter that the Holocaust in Hungary took place "with the active contribution of the Hungarian authorities".
American professor and prominent Holocaust scholar Randolph L. Braham has also returned a Hungarian state decoration in protest at the government's "falsification of history".
Mazsihisz also urged Orban to stop a project for a Holocaust interpretative centre as "its version of the history of 1944 was unknown to Mazsihisz".
It added that Orban should fire the head of Veritas, a new historical research institute, who said a deportation of 18,000 Jews in 1941 to German-occupied Soviet Union - over 10,000 of whom were murdered - was merely a "police procedural action against aliens".
"The government has taken a negative direction in memorial policy in the past few years," Mazsihisz said.
Orban's chief of staff Janos Lazar said after a meeting with Jewish leaders Thursday that the prime minister would respond to the main concerns of the Jewish community later this week.