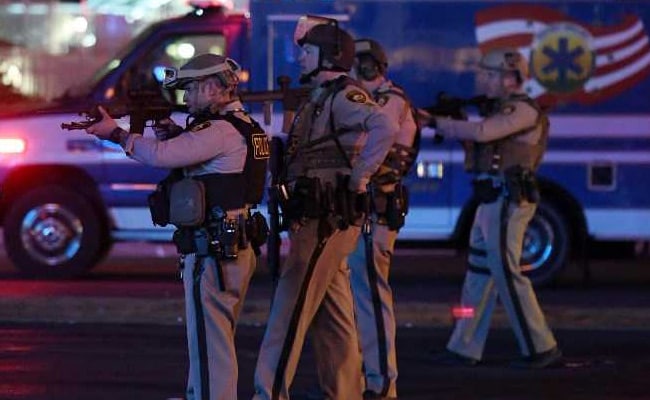 At least two Las Vegas police officers and two armed private security officers were on the 32nd floor of the Mandalay Bay hotel during the time that Stephen Paddock was firing down into a concert crowd, killing 58 and wounding hundreds, according to a statement from the hotel's owners, MGM Resorts International. Should those officers have tried to stop the massacre, knowing at least one person was firing a high-powered rifle and they likely had only semi-automatic pistols?
And did they notify anyone of the location of the shooting? Las Vegas Sheriff Joe Lombardo has repeatedly said that police didn't know that a security guard had been shot until four more officers climbed the stairs to the 32nd floor at 10:17 p.m., 12 minutes after the shooting started and two minutes after it ended. Wednesday marked the one-month anniversary of the shooting.
The conclusion that the four officers were nearby during the massacre is inescapable from the statement issued by MGM Resorts. It was first sent on Oct. 12 to clarify the timeline of events which involved the shooting of security officer Jesus Campos near the outset of Paddock's onslaught, and whether Mandalay Bay alerted police to the Campos shooting. MGM said, and Lombardo agreed the next day, that Campos was shot at about 10:05 p.m., and reported the shooting within 40 seconds of Paddock beginning to fire out of his suite at the end of one 32nd floor hallway.
"Metro officers were together with armed Mandalay Bay security officers in the building when Campos first reported that shots were fired over the radio," MGM said. "These Metro officers and armed Mandalay Bay security officers immediately responded to the 32nd floor."
This makes sense. Of course Mandalay Bay security would respond immediately to a report of shots fired in the hotel. It also is unsurprising that Las Vegas police happened to already be in the large Mandalay Bay complex, and would check out the call as well. The rapid response seems to be corroborated by building engineer Stephen Schuck, who like Campos was dispatched to investigate a stairwell door that had been tampered with, apparently by Paddock. A recording of Schuck's radio transmissions shows he reported, "Call the police, someone's firing a gun up here, someone's firing a rifle on the 32nd floor down the hallway." Schuck tells the dispatcher he's unsure what room, but it's in the 100 wing. In less than a minute, Schuck reports on his radio, "Security is here," and he can be heard advising them, "100 hallway, don't go."
So what did those police and security officers do? And why did a
team of officers who headed up the stairs in search of the shooter have to find the 32nd floor themselves, over a 10-minute period, rather than go directly there? When they arrived, they reported the Campos wounding, but no more shots fired, so they evacuated the floor, and an hour later blew open Paddock's suite door to find him dead.
Sheriff Lombardo said in a press conference on Oct. 13 that he agreed with MGM's timeline statement released the day before, which eliminated the prior six-minute gap between when Campos was wounded and when Paddock began firing into the concert crowd. But he did not take any questions, then or since, and his department has not responded to multiple inquiries from The Washington Post. MGM also declined to answer questions.
And with an active shooter in the process of committing the largest mass killing in recent American history, the uncomfortable question arises: Should the Las Vegas and Mandalay Bay officers have tried to stop him?
To add some context, the city and private officers almost certainly carried only semi-automatic pistols, with up to 14-shot capacity and maybe some extra magazines on their belts, while Paddock was wielding high-powered rifles apparently modified to fire with automatic frequency. The officers didn't know how many shooters there might be. And they could see a wheeled cart in the hallway near Paddock's suite, with wires trailing back under Paddock's door. Those apparently enabled a camera to show him the hallway, but could also have appeared to the officers to be a booby trap. If they got close enough to see it.
Paddock had fired a first volley of shots through his door at 10:05 p.m., wounding Campos and causing Schuck to duck for cover. The New York Times, in a video compilation of footage recorded during the shooting, theorized that Paddock fired a second volley through his door at 10:10 p.m., based on the muted sound captured outside the hotel. This could have been Paddock seeing those first city and hotel officers on his floor. Lombardo has said Paddock fired 200 rounds into the hallway.
Also to be considered: After the 1999 Columbine shootings, and then again after the 2008 Mumbai attacks, first responders are no longer told to wait for backup. Police protocol is to go in immediately, find and neutralize the shooter. The officers who eventually climbed the hotel stairs and reported the shooter on the 32nd floor were following this protocol, though Paddock had stopped shooting by the time they arrived.
Now, what about the unnamed, previously undiscussed officers who were there while Paddock was shooting, from 10:05 to 10:15 p.m.?
Pete Blair is one of the foremost experts on active shooter training. As the executive director of the Advanced Law Enforcement Rapid Response Training Center at Texas State University, he has trained thousands of law enforcement officers in these situations. He cautioned, as the Las Vegas sheriff has, that the timeline of events hasn't been conclusively established.
The first officers to arrive "have to make the assessment what to do," based on the circumstances, Blair said. "We teach that the first priority is to stop the killing. But do they [Las Vegas police] have a policy? Do they allow such officers to confront active shooters?" Some departments require a certain number of officers before such a confrontation, Blair said.
"It really does come down to the read of the officers on the floor," Blair said, "as to what they can accomplish. While they're supposed to assume some risk, they're not supposed to get themselves killed." He said the officers should notify their supervisors of the situation, but if their communications are not solid, "it definitely warrants more caution."
David Gomez, a former FBI counterterrorism executive and Los Angeles police detective, said the first officers in such a situation have to ask themselves, "'Do I kick the door? Do I wait for SWAT?' I think the prudent thing for the officers is to wait for some direction. They have to ask, how much risk do they want to put themselves into? You don't just go willy nilly into something like that without a plan. They don't know if it's one guy [shooting]. Is it five guys? Is he waiting for us to enter? Is there a better way tactically? They may have been armed, but I highly doubt they were carrying long weapons of the type you'd need."
While Blair and Gomez counseled caution, others felt that the first responding officers needed to try to interrupt Paddock by any means necessary. They were also critical of MGM and Mandalay Bay for not being ready for such a situation in an age when mass shootings are, sadly, commonplace.
Tom Conley, head of a private security firm in Des Moines and counterterrorism instructor for the U.S. Department of Defense, wrote an article in Security magazine blistering Mandalay Bay for not stopping the attack. "I was confused how it was that the killer could have been allowed to keep shooting seemingly unhampered for 11 to 12 minutes. My first thought was, 'Where the heck was hotel security' while all this shooting was happening and while people were dying?"
After his article appeared, MGM released its statement indicating their security people were there. Conley said the hotel's first mistake was sending an unarmed security guard to check the unsecured fire door. Conley said Campos was a contractor from a "yellow t-shirt" concert event-type security company, not a full-time Mandalay Bay employee. He said there also didn't appear to be any way for Mandalay Bay to communicate its situation to the concert security across the street.
Conley said MGM should have had an armed response team ready to roll in such a situation, that they would have rushed to the 32nd floor and carefully moved toward the shooter's suite. "If the person starts firing through the door," Conley said, "you fire back and the problem's eliminated. For them [MGM] to be somehow taken off guard or surprised by this is really criminal." He said if Campos had been armed, "he could have immediately returned fire. He only has to keep the guy busy until backup arrives. If they had trained professionals, where the hell were they on the 32nd floor when Campos was shot? The police respond and they don't know what floor to go to? " He credited hotel and casino owner Steve Wynn with taking aggressive security steps which other Las Vegas hotels have not.
Lawyers representing victims of the shooting expressed similar sentiments. "They know this kind of event is possible," said attorney Richard Bridgford, representing the family of Andrea Castilla. "It's like earthquakes, they're inevitable and buildings are earthquake-proofed. These shootings are the lead story for the last year and a half. They knew the 'earthquake' was going to occur. They need to have a security protocol designed to stop something like this from occurring."
Attorney Catherine Lombardo, who has filed a class action suit in California on behalf of the victims, said that MGM had claimed it didn't want to try the case in the press, but then released that statement. While she wanted to wait for a full report from the authorities before giving her opinion, she wondered about the actions of those who responded first. "Aren't they supposed to go toward the shooter?" Lombardo asked. "Isn't that what cops do? They run towards the danger."
Here is the full statement issued by MGM Resorts International on
Oct. 12:
"Although we prefer not to comment on the details of the investigation, we are issuing this statement to correct some of the misinformation that has been reported. The 9:59 p.m. PDT time was derived from a Mandalay Bay report manually created after the fact without the benefit of information we now have. We are now confident that the time stated in this report is not accurate. We know that shots were being fired at the festival lot at the same time as, or within 40 seconds after, the time Jesus Campos first reported that shots were fired over the radio. Metro officers were together with armed Mandalay Bay security officers in the building when Campos first reported that shots were fired over the radio. These Metro officers and armed Mandalay Bay security officers immediately responded to the 32nd floor. We will continue to work with law enforcement as we have from the first moments of this tragedy as they work toward developing an accurate timeline."
(This story has not been edited by NDTV staff and is auto-generated from a syndicated feed.)