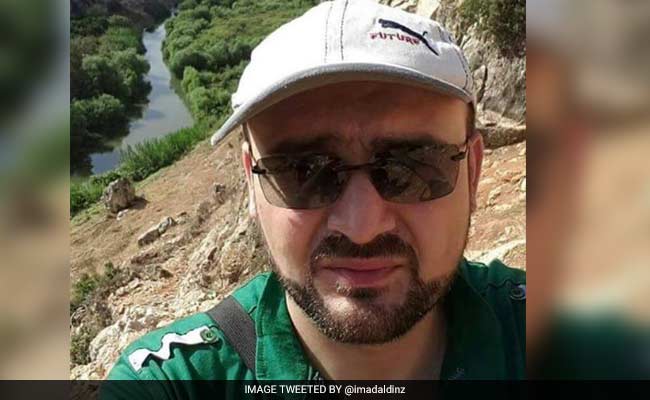 Highlights
Missile attack on a hospital in Aleppo killed 50; attack caught on camera
Dr Mohammed Maaz, one of few pediatricians in Aleppo, killed in attack
Nearly 740 doctors, medical personnel have died in the unrest since 2011
Beirut:
In the final minutes of his life, Dr Mohammed Wassim Maaz was making late-night rounds at the children's ward at Quds Hospital in Syria's northern city of Aleppo. Closed-circuit video showed him padding down a corridor in his green scrubs before disappearing off-camera.
Suddenly, there was a flash, smoke and debris - the result of a missile that killed Maaz, 36, one of the few pediatricians left in the rebel-held part of the city, along with about 50 other staff, patients, bystanders and guards at the facility.
The video of Maaz last month captured one of the most shocking sights of the Syrian civil war - a doctor slain while tending to the sick and injured.
Nearly 740 doctors and other medical personnel have died in a conflict that has killed more than 250,000 people since 2011, rights groups say.
The groups, along with the Syrian opposition, say the government aims to punish civilians who stay in rebel-held areas by targeting civilian infrastructure, including medical facilities. The government of President Bashar Assad denies this.
Dr Bakri Maaz, an orthopedic surgeon, was in Turkey visiting relatives when his younger brother was killed. Although Bakri said Mohammed had not seen their parents in months, he deferred a vacation so another colleague could go to Turkey for an exam.
"He said, 'if I leave, and the other doctor leaves, there will be shortage,'" Bakri Maaz said. The surgeon added that the demand is so great he sometimes performed 10-15 operations a day.
The April 27 attack on the Quds hospital was not the first. Some say as many as 10 indirect hits had struck nearby in recent years. Some of those halted activity there for weeks, while others only rattled the staff and patients.
Mohammed Maaz most often slept in the hospital.
"All his life was for the children," said Dr Osama Elezz, a surgeon and colleague. "His goal was to try and make pain easier for the children."
Maaz never married, his brother said, because he worried it would distract him from attending to Aleppo's children. He also had declined a scholarship to study in France.
Elezz himself has survived several attacks on medical facilities, including one that forced a hospital he frequented to operate underground after it was indirectly damaged six times in three months by crude barrel bombs.
"The first time, the barrel was a bit far. The second time it got closer. The third time they hit the hospital and so on," Elezz said.
"After the (last) strike we moved underground. We had to change the hospital into a fortress, similar to a military base."
About 40 doctors are on rotation in rebel-held Aleppo, in a part of the city with an estimated 250,000 to 300,000 people, Elezz said.
"The idea is that when you kill one pediatrician, you are killing tens if not hundreds of children who are treated by this doctor," he said from Turkey, where he was on a break.
Hours after his brother died, the elder Maaz returned from Turkey to bury him.
On that day, another airstrike hit a residential area of Aleppo.
"I didn't know whether to bury my brother or attend to the wounded," he said.
To honor the slain doctor, a children's soccer tournament has been named for him.