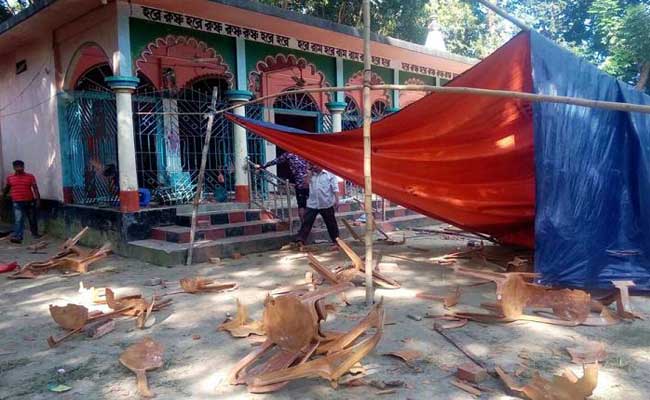 Highlights
Police have arrested nine men in connection with the violence
Bangladesh has seen spurt in violence on minorities in recent months
Hindus make up nearly 10 percent of the Bangladesh population
Dhaka:
An angry mob vandalised at least five Hindu temples and attacked property in Bangladesh after an alleged Facebook post mocking one of Islam's holiest sites, police and residents said Monday.
Scores of people attacked the places of worship late Sunday in the eastern town of Nasirnagar after a local Hindu fisherman allegedly posted an edited photo on social media of a Hindu deity inside the black cube-shaped Kaaba in Mecca, Saudi Arabia.
District police chief Mizanur Rahman said two Islamist groups had been demonstrating to demand the arrest and execution of the fisherman when a group of between 100 and 150 men broke away and attacked the temples.
A local Hindu community leader said at least 15 temples were vandalised and numerous Hindu idols were smashed during the hour-long rampage.
"They vandalised 200 Hindu houses and set eight shops on fire. At least 150 men were injured as they tried to resist the attack," Somesh Roy, a community elder, told AFP.
Police said they had arrested nine men in connection with the violence and paramilitary border guards have been deployed in the area to prevent further attacks.
"We have also arrested a 30-year-old Hindu man for the Facebook post. He'll be charged with breaching internet laws," Nasirnagar police chief Abdul Kader said, adding the post had already been taken down.
Hindus make up nearly 10 percent of the 160 million people who live in the Muslim-majority country.
Bangladesh in recent months has experienced a number of attacks on people from religious minorities, secular bloggers, publishers, writers, foreigners, many of which were claimed by Islamist militants.
The country witnessed similar attacks on Hindu temples after the controversial 2014 elections when a secular party led by Prime Minister Sheikh Hasina won polls boycotted by the opposition.
In late 2012 Muslim mobs also torched Buddhist monasteries, houses and shops in the coastal Cox's Bazar district following a Buddhist youth's alleged defamatory photo post of the Koran.
"We are tired of such repeated incidents. It is very unfortunate that none of the culprits of previous attacks are brought to justice," national Hindu community leader Rana Dasgupta told AFP.