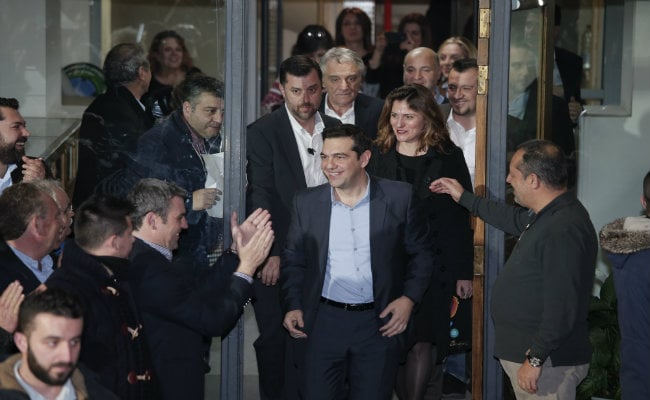 Athens:
Greece's new Prime Minister Alexis Tsipras distanced himself on Tuesday from a threat by EU leaders to impose further sanctions on Russia over the war in Ukraine, saying Athens was not consulted about the warning.
In a statement, two days after his radical left Syriza party won Greece's general election, Mr Tsipras accused EU leaders of failing to consult his government on a joint declaration on Tuesday accusing Russia of "growing support" to separatists in Ukraine's east.
Emphasising "Russia's responsibility" in the nearly-year-long conflict the EU leaders said their foreign ministers would discuss further punishment against Moscow at a meeting on Thursday.
Mr Tsipras' office accused EU leaders of "bypassing the normal procedure" used to achieve consensus among member states and said the bloc's statement "did not have Greece's approval".
The Premier had voiced his "dissatisfaction" in a telephone call with the EU's foreign policy chief Federica Mogherini and had also protested to the EU's mission in Athens, the Greek statement added.
An EU source denied Athens had not been consulted, telling AFP the usual procedures "had been respected" and that in cases such as this the silence of a member state - ostensibly that of Greece - was taken for consent.
The EU warning to Russia came as Greece's new government was being sworn in on Tuesday, a day after anti-austerity crusader Mr Tsipras took the oath of office.
His position on EU-Russian relations will be closely scrutinized, Syriza being seen until now as having pro-Russian leanings.
In spring last year, at the height of the crisis in Ukraine, which has poisoned relations between Russia and the West, Mr Tsipras travelled to Moscow to meet with government officials.
Russia's Ambassador to Athens was the first to meet Mr Tsipras on Monday to congratulate him on his election victory.