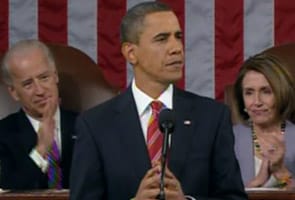 Washington:
Strongly refuting allegations that his administration is anti-business, Barack Obama on Friday said that his economic policies resulted in the revival of the private sector.
Underlining his support for private sector as the driving force of the economy, Obama said that his administration has had worked to help business recover from the depths of the recession.
"The private sector, not government, is, was, and always will be the source of America's economic success. That's our strength, the dynamism of our economy," Obama said in his economy speech at the University of Nevada in Las Vegas.
"There's a big debate in Washington right now about the role that government should play in all this. As I said in the campaign and as I've repeated many times as President, the greatest generator of jobs in America is our private sector. It's not government," he asserted.
"It's our entrepreneurs and innovators who are willing to take a chance on a good idea. It's our businesses, large and small, who are making payrolls, working with suppliers and distributing goods and services across the country and now across the world," Obama said.
As a result of the tough steps taken by his administration, Obama said, "We're in a different place today than we were a year ago. An economy that was shrinking is now growing. We've gained private sector jobs for each of the past six months instead of losing them; almost 600,000 new jobs."
Obama said the role of the government, especially in difficult times like these, was to break down barriers in the way of innovation and to unleash ingenuity that springs from people to give an impetus to businesses to grow and expand.
"That's not some abstract theory. We've seen the results. We've seen what we can do to catalyze job growth in the private sector", he concluded.
Get Breaking news, live coverage, and Latest News from India and around the world on NDTV.com. Catch all the Live TV action on NDTV 24x7 and NDTV India. Like us on Facebook or follow us on Twitter and Instagram for latest news and live news updates.