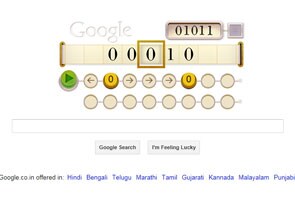 New Delhi:
Google is celebrating mathematician Alan Turing's 100th birthday with a Turing Machine as a Google doodle. That's the latest in the list of honours for a man who was a World War II code-breaker driven to suicide for being gay.
Dr Turing, known as the father of computer science and artificial intelligence, committed suicide in 1954, two weeks before his 42nd birthday. His homosexuality had resulted in a criminal prosecution in 1952, since homosexual acts were illegal in the United Kingdom at the time. He had been forced to undergo 'chemical castration'.
In 2009, British Prime Minister Gordon Brown apologised for the treatment meted to Dr Turing for homosexuality.
His research helped formalise the concepts of "algorithm" and "computation" with the Turing machine, which played a significant role in the creation of the modern computer.
The Turing Award, first awarded in 1966, is considered to be 'the Nobel Prize of computing'. The award, given annually by the New York-based Association of Computing Machinery, carries a prize of $250,000, sponsored by Intel and Google.
To honour the mathematician and computing genius, the city of Manchester, where Dr Turing taught and researched, has this year instituted a new award recognising individuals or groups who have made a significant contribution to the fight against homophobia. The honour will be given as part of the UK Lesbian and Gay Foundation's annual Homo Heroes Awards.
The Google doodle to recognise this legendary mathematician is a brain teaser - the task: spelling GOOGLE in binary code. And here's a video that shows you how.