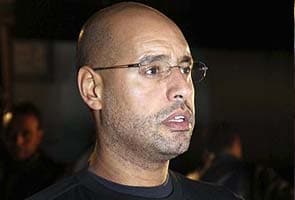 Tripoli, Libya:
Moammar Gaddafi's son Seif al-Islam - the only member of the ousted ruling family to remain at large - was captured as he travelled with aides in a convoy in Libya's southern desert, Libyan officials said Saturday. Thunderous celebratory gunfire shook the Libyan capital as the news spread.
A spokesman for the Libyan fighters who captured him said Seif al-Islam was detained about 30 miles (50 kilometres) west of the town of Obari with two aides as he was trying to flee to neighbouring Niger, but the country's acting justice minister later said the convoy's destination was not confirmed.
The International Criminal Court had charged Gaddafi, Seif al-Islam and Libya's former intelligence chief Abdullah al-Senoussi with crimes against humanity for the brutal crackdown on dissent as the uprising against the regime began in mid-February and escalated into a civil war. Seif al-Islam's capture leaves only al-Senoussi at large.
Libyan TV posted a photo purportedly of Seif al-Islam in custody. He is sitting by a bed and holding up three bandaged fingers as a guard looks on.
Mohammed al-Alagi, the National Transitional Council's justice minister, told The Associated Press that Seif al-Islam was detained deep in Libya's desert Friday night by revolutionary forces from the mountain town of Zintan who had been tracking him for days.
Seif al-Islam was being held in Zintan but would be transported to Tripoli soon, according to al-Alagi.
A spokesman for the Zintan brigades, Bashir al-Tlayeb, who first announced the capture at a press conference in Tripoli, said the NTC, which took over governing the country after Gaddafi was ousted, would decide where Seif al-Islam would be tried.
He also said that there was still no information about al-Senoussi's whereabouts.
Seif al-Islam Gaddafi, at 39 the oldest of seven children of Moammar and Safiya Gaddafi, had long drawn Western favour in by touting himself as a liberalizing reformer in the autocratic regime but then staunchly backed his father in his brutal crackdown on rebels in the regime's final days.
He had gone underground after Tripoli fell to revolutionary forces and issued audio recordings to try to rally support for his father.
The International Criminal Court had earlier said that it was in indirect negotiations with a son of the late Libyan leader Moammar Gaddafi about his possible surrender for trial.
Mindful of past arrest claims that proved false, an ICC spokesman said the court was waiting for proof that Seif al-Islam had been captured but stressed Libya has a legal obligation to cooperate with the international arrest warrant.
"First we have to verify if it really is him and that he's actually been arrested this time," the spokesman, Fadi El Abdallah, said. "If they decide they want to try the suspect in Libya instead of at the ICC, there's a necessary process."
He said the Libyans could formally request that the case be transferred, then ICC judges would make a decision.
"The main criteria is that he generally be prosecuted for the same crimes," the spokesman said. "For us there's an obligation, a legal obligation under international law, for the national government to cooperate with the ICC."
Get Breaking news, live coverage, and Latest News from India and around the world on NDTV.com. Catch all the Live TV action on NDTV 24x7 and NDTV India. Like us on Facebook or follow us on Twitter and Instagram for latest news and live news updates.