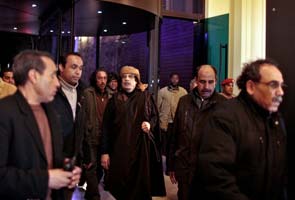 Milan:
Libyan leader Mommar Gaddafi Tuesday ruled out negotiations with anti-government rebels, whom he described as "terrorists linked to Osama bin Laden", but warned that if the West were to attack his country, he would ally his forces with Al Qaida in a "holy war".
Gaddafi made the remarks in an interview with Milan-based daily Il Giornale from his headquarters in the Libyan capital Tripoli.
Asked whether he feared ending up like former Iraqi leader Saddam Hussein, who was toppled by a US-led invasion and then hanged for war crimes, Gaddafi said: "No, our war is against Al Qaida."
However, "if they (the West) behave with us as they did in Iraq, then Libya will leave the international alliance against terrorism".
"We will then ally ourselves with Al Qaida and declare a holy war," Gaddafi said.
Gaddafi had previously accused anti-government rebels and their leaders of being "hostages" of Al Qaida and warned that no dialogue with them was possible.
"They (the rebels) don't have any hope. Their cause is lost. They only have two possibilities: to surrender or to flee," Gaddafi said.
He also accused the rebels of "using civilians, including women, as human shields".
Gaddafi said his troops would continue besieging rebel hold-outs, including Libya's third-largest city, Misurata, because this is what "the people who are on my side" want.
"The terrorists will be put on trial, but normal citizens who have been misled will be pardoned. There will be clemency for those who put down their weapons," Gaddafi said.
The Libyan leader also said he felt betrayed by Western leaders like Italian Prime Minister Silvio Berlusconi and described French President Nicolas Sarkozy as "mentally disturbed" for proposing air strikes against his forces.
"I am totally shocked, I feel betrayed and I wouldn't know what to say to Berlusconi," Gaddafi told Il Giornale, which is part of Berlusconi's media empire.
Last year, Berlusconi treated Gaddafi to a lavish reception in Rome to mark a friendship agreement between their two nations. But the Italian leader has recently joined his European colleagues in condemning the actions of Libyan government forces.
Gaddafi also indicated that certain oil and gas contracts involving Libya and several Western companies, such as Italy's state-controlled energy giant ENI, would be reviewed once the rebellion had been quashed.
"I think and I hope that the Libyan people will reconsider the economic, financial and security ties with the West," Gaddafi said.