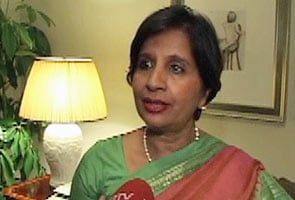 Florida:
Indian Ambassador to the US Nirupama Rao spoke to students of the University of Florida.
Below is the complete text of her Commencement Address.
It is not usual for me to deliver a commencement address and I am deeply honoured by this opportunity to address all of you who stand on the threshold of your beautiful tomorrows.
I am aware that the University of Florida is one of the premier seats of learning in the United States, committed to academic excellence, contributing to the socio-economic development of your state and preparing students like you to be global citizens for an increasingly inter-connected world.
You are ready to face the challenges of the 21st Century with the learning and knowledge you have acquired within these portals.
I am happy to learn that more than 1100 Indian students are currently enrolled at the University of Florida. Through its linkages and partnership with several Indian academic institutions, the University is performing yeoman service in the promotion of greater understanding between the Indian and American peoples.
For example, only recently, a University of Florida-led research team has been selected to participate in a five-year, $125 million project on the development of clean energy technologies involving research institutions, universities and industry from India and the United States.
Commencement ceremonies always induce a sense of nostalgia in us older people. On this day, I cannot but help thinking of my own student days and the world of the early seventies when I stood on the threshold of my tomorrow.
At that time, my country, India, was a very young nation, having marked twenty five years of its independence - years during which our Republic began its journey on the path of economic development and building a just and equitable social order after a dark period of colonial rule and exploitation.
We did not live online, and did not know what a virtual world meant! You are digital natives, we, of an older generation are immigrants in a digital world. The universe of the digital and the internet was barely imagined when we were in university. But the world was already shrinking. In real time, through the radio set, the movies, through newspapers, and magazines which we accessed avidly in our thirst for information.
In what was then a small town in India, where I studied for my Master's degree in English Literature, I was witness to the tragedy of the war in Vietnam, the creation of Bangladesh, the historic visit that President Nixon made to China and the menacing brinkmanship of the Cold War.
The world was certainly becoming much smaller than it had ever been in time past. My grandparents, both maternal and paternal, had spent their entire lives in the southern Indian state of Kerala. My parents and their siblings made India their stage, living outside their home state. It was left to my generation to cross the seven seas and discover the world.
Our dreams created our own cartography, reaching across borders we saw on maps. We sought enlightenment, and we sought empowerment. I became a diplomat at the age of 22, in my very own quest for enlightenment and empowerment. We were attracted to careers in public service.
We wanted to make a difference. Women in my country, those of whom had access to the opportunities provided by education and supportive family environments, were therefore, beginning to take up careers in public service.
I came to the profession of diplomacy because of this desire to make whatever contribution I could to my country's progress and security, my curiosity about the world around me, my love of history, both ancient and current, and the manner in which I was impacted while growing up, by the spirit of a newly independent India, and what she has stood for.
I was also inspired by the tradition of women like Gargi, an extraordinary Indian woman sage, who was said to have challenged her seniors with disturbing questions on the nature of the soul or atman. It was an example that constantly inspired me to challenge any obstacle that confronted me on my journey, both professional and personal, with perseverance and determination.
Diplomacy, the field to which I belong, was for long the exclusive preserve of men and this was very evident when I became a Foreign Service officer in 1973. The very thought that statecraft, the conduct of relations between sovereign countries, could involve women, was new, even up to a few decades ago.
Of course, the fact that we had a woman Prime Minister, Indira Gandhi at the time, was a revolutionary development not only for India, but the world. It made our ascent as women much more acceptable to society, at large.
Years earlier, C.B. Muthamma, the first Indian woman to write the examinations for the civil service, and to join the Indian Foreign Service, struggled valiantly to improve the system and her efforts yielded extraordinary opportunities for those who succeeded her.
Today, the Indian Foreign Service can proudly count in its numbers a host of women Ambassadors and High Commissioners, not to mention all its other women diplomats, who represent India abroad and contribute effectively to the making of our foreign policy.
India is today going through a process of historic change. Aspirations are rising with millions being lifted out of poverty and our accelerated growth has made us well poised to be one of the leading economies of the world. We have consistently discharged our national and international duties with responsibility. Our democracy is strong, vibrant and resilient.
In the years since when I came to be a diplomat, the impact that women have on public life in India has also grown from strength to strength. For example,I was privileged to head India's foreign service as the Foreign Secretary for two years from 2009 to 2011. It was a unique experience in every way.
It also demonstrated that our system is fair and just, and one of the best in the world when it comes to acknowledging the contribution of women in public service and to the life of the nation.
Let me shift gears a little here away from the personal to a larger context. We live today in an age of innovation. In today's environment of constant change, of greater awareness among citizens, and globalization, the ability to adapt and stay innovative is critical.
Change is not easy in any society. The convenient way out is to adopt ways that have been in place for countless years. All of you, whose education has taught you to ask questions, to seek cogent answers, know that knowledge must constantly multiply and not divide, or become restrictive, "cribbed, cabinn'd and confined" .
The world is still an inequitable place. The revolution in rising expectations we see across our planet, compels us to be even more conscious of the need for social innovation, applying technology to provide solutions for human development, whether it is water for drought prone areas, higher yielding agricultural techniques, providing better health solutions particularly for women and children, or better management of our rapidly growing urban space.
In the summer of 2010, Pepsico's Indra Nooyi addressing a conference of Indian Ambassadors noted that whether "you look through the lens of diplomacy or the lens of the corporation, the task is the same - to create a world in which we feel safe, settled and happy". In our world of today, prosperity and security reinforce each other.
That safety and security comes from economic progress, from innovation and enterprise and technological invention.
Today, also as a measure of how the world has changed, borders between nations are becoming increasingly porous, and in time, they will be increasingly irrelevant, as people are allowed to move freely to transact trade and commerce, and to travel without hindrance.
Protectionism in such a situation becomes a hindrance to economic growth and development because it seeks to cap the flow of people, of goods and services, of ideas and technologies. It builds walls and is thus retrogressive. We must be alert to its stifling effects.
Globalisation integrates the world today in many ways. But it has also unleashed its discontents. There are vast gulfs between those who have a wealth of opportunities and those whose lives are ridden with poverty and marginalization. We, who live in the developing world, as in India are especially conscious of this reality.
This is especially because we are a multi-ethnic, multi-cultural, multi-religious, pluralistic society. Our challenge is to deliver the benefits of globalization, and economic reform and growth to the many millions of people who must be included in and benefit from this growth process.
They must have a ticket to ride and we must do right by them, to borrow what the Beatles said. And, to ensure this, we have to grow our economy at an accelerated pace. The unhindered flow of capital and technology across borders is one of the key components of this process.
Let me dwell on yet another theme. I know that all of you look to the future with dreams, hope and anticipation. You are no doubt receiving a lot of advice from your near and dear ones. Let me also weigh in with my thoughts.
Many years ago, during India's freedom struggle, the father of our nation, Mahatma Gandhi said to our young people, "Become the change you want to see". That was a powerful exhortation, an inspirational clarion call, which continues to ring clear and powerful, even today.
The Mahatma took his inspiration from the simple and poor people who populate the countryside of many countries in our world - he rightly said that all our actions become meaningful only when we gauge them by a simple test - do they help the poorest and the weakest among us?
And, he sought to instil profound values in the people around him. For him there could be no wealth without work, no pleasure without conscience, no knowledge without character, no commerce without morality, no science without humanity, no worship without sacrifice, and no politics without principle.
From this, we can deduce relevant inspirations for a youth or an artiste or a manager or politician, or if I may add, for Ph.Ds, because these principles apply to all of humanity.
Gandhi also said, "Nothing that is violent can be of lasting benefit to mankind." This is a powerful message for a world wracked by sectarian strife, proxy wars, terrorism and conflict within and between nations. His global vision could be understood by his thought that "Once we recognize the common parent stock from which we are sprung, we realise the basic unity of the human family, and there is no room left for enmities and unhealthy competition."
I think it is most important that we approach any task or challenge or situation with an open mind. The tragedy of a closed mind has no place in a democracy.
Here again, the words of Mahatma Gandhi should inspire us. He said, "I do not want my house to be walled in on all sides and my windows to be stifled. I want all the cultures of all lands to be blown about my house as freely as possible. But I refuse to be blown off my feet by any."
This cross pollination of minds, ideas, the freedom of debate, the jousting of ideas - that should be our goal. Let your lives be lived in what has been rightly called, the Open University of Human Experience, with its rich curriculum. Do not build fortresses, rather, dismantle them.
There are many around you, less advantaged, in the outside world, who crave the safety of the opportunities provided to you. Do not ignore them or the inequality that seems to divide our world. Use your education and your knowledge to provide solutions to these issues. This process is an imperative and we must not ignore it.
Finally, coming as I do from India, which is a place where the whole world is seen as an extended family, let me speak of the value we place on relationships, and the need to nurture and treasure them. You will have your careers to fuel your progress in life, but sustenance comes from those relationships of family and friends that help you soar higher and higher. Treasure those relationships.
This is an important day in your lives. In years to come, you will remember this as a timeless moment, when the whole expanse of life stretched out in front of you, beyond the pale of vision. May the education you have received make you the best of human beings, confident, leading by example, followers of the rule of law, good citizens, giving and compassionate.
Make the world a better place, follow the paths of peace and forbearance. I also hope each and every one of you become the builders of an even better and high yielding partnership between our two democracies, India and the United States.
Just as we see many Indian students coming to study in universities in this country, I hope I see many more young Americans drawn to India and the study of India in a serious and comprehensive way. Your great writers like Thoreau, Emerson and Whitman, among others, blazed an immortal trail in this regard. May you be inspired by their example.
Because that is the future that beckons.
May you be blessed, always.
I thank you all.
Get Breaking news, live coverage, and Latest News from India and around the world on NDTV.com. Catch all the Live TV action on NDTV 24x7 and NDTV India. Like us on Facebook or follow us on Twitter and Instagram for latest news and live news updates.