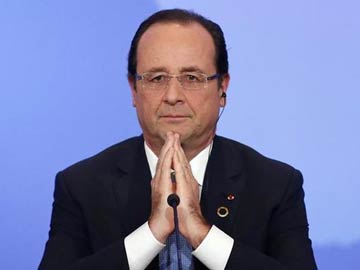 Paris:
Francois Hollande's approval rating edged 2 percentage points higher in December to 24 percent, a small rise from an all-time record low hit last month, a poll showed on Sunday.
The Opinionway survey also showed that 64 percent of those interviewed were dubious about Hollande's military intervention in the Central African Republic, which received the United Nations' backing on Thursday.
France is deploying 1,600 troops in its former colony to help ease a crisis that has seen hundreds killed in violence between religious communities.
The slight rebound in the poll comes after French jobless claims fell in October from a record reached in September. Hollande had pledged to get unemployment on a downward trend by the end of the year.
"After a sharp fall over the past two months, the popularity of the President and the Prime Minister is stabilising. Both benefit from a technical rebound," the pollster said in a statement.
"But while the French believe that the country is facing a tough economic crisis and forced to curb its spending, a military operation in a low-profile conflict does not appear a priority," the pollster said in a statement.
For 64 percent of the 1,007 people interviewed in the poll between December 2 and December 4, the situation in France has not improved since the election of Hollande in May 2012. That is 5 percentage points more than the previous month.
© Thomson Reuters 2013