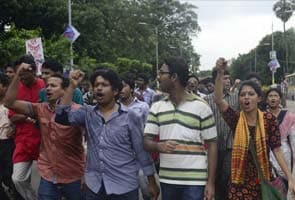 Dhaka:
At least four persons were killed in police firing and violence that erupted in several parts of Bangladesh on Tuesday following the conviction of fundamentalist Jamaat-e-Islami's 91-year-old former supremo Ghulam Azam.
Police opened fire when supporters of Mr Azam went on a rampage and attacked police with sticks, machetes and crude bombs, killing two persons in southwestern Satkhira.
"They (Jamaat) activists violently attacked us with lethal weapons and homemade bombs... we were forced to fire gunshots for our defence when the two died," a police officer said.
A nine-year-old girl was run over by a speeding bus that was chased by protesters in suburban Gazipur. Another person died after being allegedly attacked by rival activists at southwestern Dinajpur.
The violence comes a day after Jamaat workers hacked to death a local leader of ruling Awami League at Satkhira ahead of the verdict sentencing Mr Azam to 90 years in prison for 1971 "crimes against humanity".
Jamaat rejected the International Crimes Tribunal verdict saying it was delivered as part of a plot to eliminate their leadership as it called for a nationwide strike on Tuesday.
Businesses and shops were shut country-wide for the strike and roads and highways were largely empty, bringing inter-district transport to a halt.
Security was tight in the capital Dhaka, with thousands of police patrolling the streets.
The Awami League on Tuesday cautiously welcomed the judgement on Mr Azam with Prime Minister Sheikh Hasina saying "We are satisfied with the tribunal's verdict...What the punishment should be is the matter of the court".