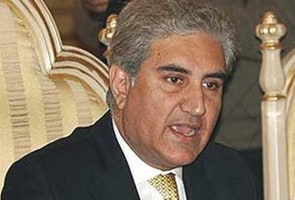 Islamabad:
Former Pakistan Foreign Minister Shah Mahmood Qureshi has joined cricketer-turned-politician Imran Khan's Pakistan Tehrik-e-Insaf party, giving it a boost in the run up to the general election scheduled for 2013.
Mr Qureshi, who recently quit the ruling Pakistan People's Party (PPP) after being estranged from it earlier this year, told a gathering of about 30,000 people at Ghotki in southern Sindh province that he would be part of Khan's movement to bring about wide-ranging changes.
"Imran Khan sahab, from today Shah Mahmood is part of your team," Qureshi said as the crowd cheered.
The speech by Qureshi, the custodian of one of the most influential sufi shrines in Punjab, was peppered with spiritual slogans and religious analogies.
At one point, Qureshi likened himself to 10th century Muslim ruler Mahmud of Ghazni, comparing his campaign against the PPP-led government to a movement to "destroy the Somnath temple".
Mr Qureshi compared PPP chief and President Asif Ali Zardari to the Pharaohs of Egypt, saying he had tried to prevent the holding of the rally at Ghotki.
Since Mr Qureshi quit the PPP and parliament earlier this month, he has repeatedly attacked Zardari and other leaders of the PPP, blaming them for failing to tackle problems like corruption, poor governance, rising prices and crippling power cuts.
During his speech, Mr Qureshi called Pakistan President Asif Ali Zardari and Prime Minister Yousuf Raza Gilani "thieves" and asked the people to get rid of the government.
"There is talk of change because people are disappointed by the government of Zardari and Gilani... Is it time to chase away these thieves and confront them?" he asked.
Get Breaking news, live coverage, and Latest News from India and around the world on NDTV.com. Catch all the Live TV action on NDTV 24x7 and NDTV India. Like us on Facebook or follow us on Twitter and Instagram for latest news and live news updates.