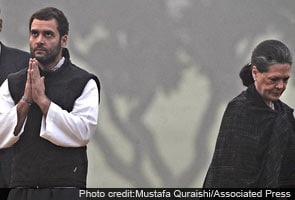 New Delhi:
India's governing party has no shortage of problems: a sinking economy, corruption scandals and a rising anti-incumbency mood among voters. But perhaps the greatest uncertainty facing the party, and to some degree all of India, is Rahul Gandhi, the anointed next-generation leader.
For decades, the Indian National Congress Party has billed itself as the party most capable of holding the fractious country together, while the Nehru-Gandhi political dynasty has held the Congress Party together. The family has produced three prime ministers and one very powerful daughter-in-law, Sonia Gandhi, the party president, who has carefully sought to advance her son, Rahul.
But if this is supposed to be Rahul Gandhi's moment, it is unclear that he wants to seize it or what he will do with it - or if a chaotically changing, fitfully modernizing India is still enthralled with the Gandhi mystique. The Gandhis remain the country's only national political brand, proving resilient over decades, but their appeal now seems tarnished, just as India's global luster has also suffered.
To understand Gandhi's unique position in India's political landscape, consider the events of just the past few days: Eager for a jolt of energy, the Congress Party-led government announced a major Cabinet reshuffle on Oct. 28. Many analysts thought Gandhi might take a Cabinet post to burnish his credentials as a future candidate for prime minister. But he declined.
Then, Gandhi seemed poised to assume a bigger role in the Congress Party, in a newly created job second only to his mother's. That still may happen, but by week's end, even as Indian media reported that Gandhi was quietly exerting more political influence, it was unclear if there would be any new job at all. Party spokesmen said Gandhi was already second in command, anyway.
Gandhi, 42, has said nothing on the subject. On Sunday, he appeared at a big Congress Party rally, taking a few shots at the opposition. But often he is conspicuously absent in the noisy swirl of Indian politics, a silence that has allowed critics to question whether there is much to him besides his name.
"We did not get the chance to have Rahul's analysis on any critical issue facing the nation in Parliament," said Mohan Singh, a leader in the regional Samajwadi Party, at a news conference in Kolkata in September. "When one does not hear him speak, how can one say the country will be secure in his hands?"
Just being a member of the Nehru-Gandhi dynasty usually has been enough to win votes and public confidence. Gandhi's appearances are regularly carried on India's news channels, most of them photo opportunities or tightly scripted speeches. Handsome, regarded as modest and serious-minded, he is popular and has long been offered by party strategists as a symbol of generational change - even though he is now almost a generation older than the young voters he is supposed to attract.
Gandhi remains an enigma. His vision for the country is unclear, his political talents are in doubt, and his ability to win votes is no longer assured. He avoids the media except at staged events - he did not respond to interview requests for this article - and his extreme privacy about what he will do, and when he will do it, creates uncertainty even in his own party.
"People are waiting for Rahul," said Sam Pitroda, a special adviser to Prime Minister Manmohan Singh with longstanding ties to the Gandhi family. "Everybody is waiting for him to set the tone of the party, to set the tone of the government."
For the past three months, the government has scrambled to save the sinking economy and position itself for national elections, which are scheduled for 2014 but could come sooner. Faced with a possible downgrade to the country's credit rating, the government pushed through a handful of key economic measures in September and has sought since then to project a reformist image. The sense of crisis has eased, but India's global image - along with that of the Congress Party - has been dented.
The Congress Party spearheaded India's freedom movement and has held power for much of the nation's history. Jawaharlal Nehru, Gandhi's great-grandfather, was the country's first prime minister.
Gandhi's grandmother Indira Gandhi and his father, Rajiv Gandhi, were also prime minister, and both were assassinated - tragedies that have made the family synonymous with national sacrifice.
Gandhi's inaccessibility is partly attributable to concerns about his safety. But it also shields him from having to take stands on the tough issues of Indian politics. Neither his mother nor the prime minister is especially comfortable rallying public opinion behind government policies, leaving the party without a charismatic communicator in India's rapidly changing media culture.
"Rahul Gandhi is an iconic leader," Salman Khurshid said in an interview before he became the country's foreign minister during last month's Cabinet changes. "Mrs. Sonia Gandhi is an iconic leader. But because the circumstances of the country have changed so much, you don't have a storyteller."
Meanwhile, the Gandhi family has found itself under attack on another front. The anticorruption campaigner Arvind Kejriwal recently released documents claiming that Gandhi's brother-in-law, Robert Vadra, profited handsomely in improper real estate deals - allegations that Vadra has denied. And on Thursday, another activist, Subramaniam Swamy, accused Gandhi and his mother of profiting from a different land deal. In a statement released by his office, Gandhi called the accusation "utterly false" and threatened legal action.
Gandhi's political standing was highest after the 2009 national elections, when his campaigning helped the Congress Party win a second term, as party strategists gleefully talked about how the "Rahul brand" would attract votes across the country.
But he has struggled since then. His most public defeat came this year in elections in Uttar Pradesh, India's most populous state, where voting is often conducted along caste lines. Gandhi tried to play this game, selecting many candidates to attract certain caste constituencies, yet many of his choices did not win.
He has also been criticized for his relentless courtship of Muslim voters, including by the writer Salman Rushdie, who canceled an appearance at an Indian literary conference in January after protests against Rushdie by Muslim groups in Uttar Pradesh.
"It didn't even work, Rahul," Rushdie said during a March speech in New Delhi, according to Indian news reports. "It didn't even work. Years and years of kneeling down before every mullah you could find, and it did not even work. Must feel sick."
As a campaigner for the Congress Party, Gandhi often pops up, sometimes unannounced, at local disputes across the country. During such forays, he has worn the traditional clothing of the rural common man and sported a beard or a rough three-day stubble. In other appearances, however, Gandhi has sometimes sent another signal by going clean-shaven and dressing in modern, stylish clothing. His trips have received national headlines, but critics say they are little more than stunts.
Last year, when Sonia Gandhi flew to New York for an undisclosed medical procedure, Gandhi was expected to exert his leadership. But the party and the government struggled and responded clumsily to the huge anti-corruption protests led by Anna Hazare. Gandhi's attempt to defuse the situation with a rare speech to Parliament fell flat.
"As far as politicians go, he doesn't seem to get the pulse of politics," said Aarthi Ramachandran, author of the book "Decoding Rahul Gandhi."
Despite his problems, Gandhi remains the party's unquestioned future leader. He has won praise for modest changes like promoting internal elections for party posts. One of his mentors, Digvijay Singh, a party stalwart, dismissed the criticism of Gandhi's silence on many national issues, saying he is careful to defer to the prime minister and other senior leaders.
"If you expect him to react to every political situation, he's not cut out like that," Digvijay Singh said. "He prefers to work within a system, within a team. He reacts only to those issues which he has been assigned."
One powerful minister, Vayalar Ravi, said the Indian public still deeply admired and trusted Gandhi. "We all look at him now as a leader," Ravi said. "He's the hope."
© 2012, The New York Times News Service