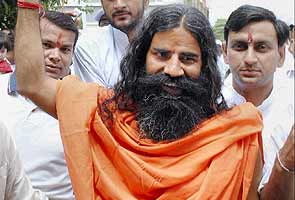 New Delhi:
For more than 40 years, reformers and other agitators have tried in vain to cleanse India of corruption. They have staged demonstrations, candlelight vigils and protest marches for naught. In Parliament, efforts to create an independent anti-corruption agency began in 1968. It still does not exist.
Given this legacy of failure, an unexpected development is now stirring up the world's largest and most raucous democracy: The agitators are on a hot streak. Government ministers are frantically trying to persuade one of India's most popular gurus to call off a nationwide yoga rally against corruption - yes, a yoga protest - and a mass hunger strike, scheduled to begin on Saturday. Already, the government has capitulated to the demands of another hunger-striking anti-corruption crusader.
For an Indian public disgusted by worsening corruption, the hunger strikes and yoga sit-ins are spectacles of political theater embroidering what is actually a fight over how to fix the rusted gears of India's democracy. Reformers want an anti-corruption agency with sweeping powers, and the governing Congress Party has promised to propose legislation in the summer session of Parliament.
"This is a real serious breakthrough," said Sriram Panchu, a lawyer specialising in constitutional law. "There is a chance of something going through, provided the civil society groups handle it carefully."
Indeed, the reform camp, having shaken the government, is now finding itself under attack, in some instances by natural enemies, in others by natural allies. One issue is the cure itself; even some allies worry that the proposed anti-corruption body could become an unchecked superagency. Another complaint is about tactics; critics have accused reformers of conducting "democracy by blackmail" - threatening more hunger strikes unless the government bends to their demands.
"If somebody thinks we blackmailed democracy with our fasting, we'll keep on blackmailing for these things," countered Anna Hazare, one of the leading figures in the anti-corruption movement. "Democracy is not blackmailed. It is strengthened."
For months, the national coalition government, led by the Congress Party, has been reeling from high-profile corruption scandals, including cases involving the allocation of telecom licenses and the staging of the Commonwealth Games. Almost every day, the India news media is awash with new allegations of corruption, large and small, even as public cynicism is deepened by the failure of the system to hold the political class accountable.
In recent state elections, Indian voters have proved willing to punish the political parties most tainted by corruption. The regional party at the heart of the telecom scandal - the Dravida Munnetra Kazhagam, or DMK - was resoundingly voted out of power in Tamil Nadu last month. Moreover, voters have shown a growing willingness to reward politicians who pay heed to good governing.
But with voting in state races held every five years, analysts say official corruption thrives between elections because India's laws and institutions are inadequate to prevent it. India has a Prevention of Corruption Act, as well as various investigative agencies focused on corruption. But those agencies ultimately fall under the control of politicians. Loopholes in the law make it hard to investigate a member of Parliament. And corruption cases that do make it to court can drag on for years without any resolution.
"Today, all these anti-corruption agencies are either appointed or controlled by the government," said Prashant Bhushan, an anti-corruption organizer. "There are serious conflicts of interest."
For reformers, the solution is an independent anti-corruption agency called a Jan Lokpal, or ombudsman. Different attempts have been made to approve such an agency since a first effort in 1968, but these efforts have failed to capture the public imagination enough to bring pressure for change. This year, expectations for success were low when activists began a renewed effort.
But then Mr. Hazare came to New Delhi in April and began a hunger strike. A longtime anti-corruption activist in the state of Maharashtra, Mr. Hazare casts a simple Gandhian image in his plain white cotton clothes and cap. He declared that he would fast until the government agreed to draft new legislation for a Lokpal. News coverage rippled across India, and unexpectedly, thousands of people joined him, many of them from a middle class usually alienated from politics.
It was a classic exercise in Gandhian guerrilla politicking in India - and it worked. The Congress Party convened a special drafting committee for a Lokpal bill that included Mr. Hazare and four other activists as well as powerful government ministers. For several weeks, the panel has been meeting under a June 30 deadline so that legislation can be presented to Parliament.
Disagreements are already arising: Mr. Hazare's group wants a Lokpal with vast authority, capable of investigating the prime minister, the judiciary, Parliament members and senior civil servants in the bureaucracy. It would be largely independent of government control and have authority over existing investigative agencies and the power to establish fast-track courts for corruption cases.
Government officials say such a Lokpal could undermine the country's democratic system and are resisting the inclusion of the prime minister and the judiciary under the agency's scope. "We have to forge an effective law that does not disturb the balance of the constitutional structure," said Kapil Sibal, the powerful minister serving as the government's point man on the Lokpal committee. "We must enact a law that instills confidence."
A parallel movement led by Baba Ramdev, a yoga guru with political aspirations and hundreds of thousands of followers, has created another front of protest. Tents have been prepared at a campsite in New Delhi for a mass yoga session on Saturday followed by a hunger strike. Mr. Sibal and other top ministers met Swami Ramdev at New Delhi's airport on Wednesday and spent nearly two hours trying in vain to persuade him not to protest.
But by Thursday, Swami Ramdev vowed to go forward and predicted that millions of adherents around India would follow his lead. News reports speculated on a possible rift between Swami Ramdev and Mr. Hazare and on whether ego and competition were beginning to infect the different advocacy factions. Yet Mr. Hazare announced he would cut short a tour of southern India, where he was leading anti-corruption rallies, and return for Swami Ramdev's weekend protest.
"There are no differences between us," Mr. Hazare said in a statement. "We completely support his movement."
In fact, Mr. Hazare has already warned that if a Lokpal bill is not finished by June 30, he, too, will start another hunger strike.