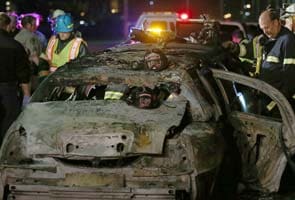 San Mateo, California:
Authorities say five people were killed and five others survived after a limousine caught fire on a San Francisco Bay area bridge late Saturday night.
California Highway Patrol Officer Amelia Jack tells KGO-TV that five victims who were trapped in the burning limousine died. Five others escaped.
KGO reports that the victims were all women in their 30s. They were traveling on the San Mateo bridge when smoke came from in the back of the limousine. The driver pulled over and the vehicle quickly became engulfed in flames.
Jack said three survivors suffered smoke inhalation and one had severe burns. They were rushed to hospitals.
Several lanes of the bridge were closed as officers investigated the cause, but the patrol says one lane of traffic reopened early Sunday.