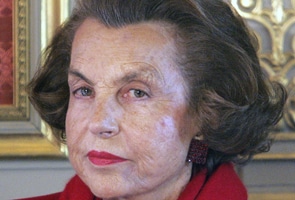 Paris:
The heiress to the L'Oreal cosmetics fortune was questioned on Monday by French investigators in a probe into her finances that has embroiled President Nicolas Sarkozy's government.
Financial police arrived at 87-year-old Liliane Bettencourt's home in the Paris suburb of Neuilly-sur-Seine. Police vans were parked on the quiet street, where the gated entrance to the villa opens onto verdant gardens.
Her lawyer Georges Kiejman said she was being questioned as a witness in a probe into alleged tax evasion, one prong of a multifaceted investigation that stemmed from a dispute between Bettencourt and her daughter.
The dispute has mushroomed in recent weeks to include claims of illegal financing of Sarkozy's 2007 election campaign. He has denied the claims and called them an effort to smear him.
Bettencourt is Europe's richest woman, according to Forbes, with a fortune estimated at $20 billion, and one of France's biggest taxpayers.
The tax evasion probe was prompted by secret recordings made by Bettencourt's ex-butler. The recordings, leaked to the French media, included references to two Swiss bank accounts and to an island in the Seychelles that Bettencourt and her late husband bought in the 1990s.
Bettencourt's financial adviser, Patrice de Maistre, said after the recordings were leaked that she had two Swiss accounts and that he would get her tax affairs in order.
French investigators also are expected to question Labor Minister Eric Woerth, who has been treasurer of Sarkozy's conservative UMP party for eight years, and faces claims that he took cash from Bettencourt. Woerth denies those claims.