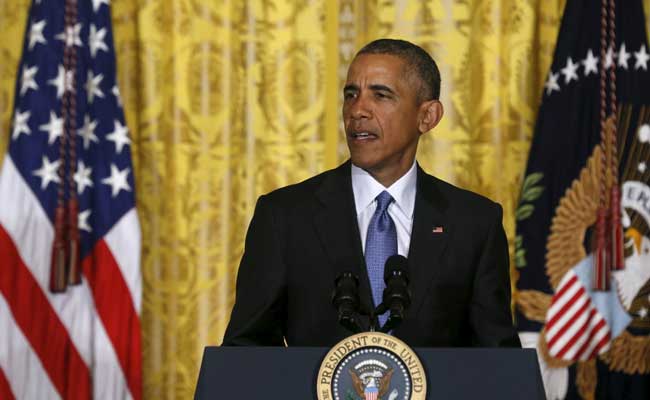 Washington:
In his final year in office, US President Barack Obama has said that failing to prepare for the aftermath of the ousting of Libyan dictator Muammar Gaddafi in 2011 was the "worst mistake" of his presidency.
"Probably failing to plan for, the day after, what I think was the right thing to do, in intervening in Libya," Mr Obama told Fox News while answering a series of questions on the highs and lows of his nearly eight years in the White House.
The 2011 US-backed intervention helped topple Gaddafi, who ruled Libya for over 40 years. But after the former Libyan president was killed, Libya plunged into chaos with militias taking over and two rival parliaments and governments forming.
Both Mr Obama and then Secretary of State Hillary Clinton continue to argue that it was not the removal of Gaddafi that caused the chaos, but rather the failure to prop up a stable government in the days following.
An ISIS affiliate has since gained a foothold in Libya, and the US has carried out airstrikes against "ISIS camps" as recently as February.
However, it is not the first time Mr Obama has expressed regret over Libya. He told the Atlantic magazine last month the operation went as well as he had hoped, but Libya was now "a mess".
In that interview, he also criticised France and the UK, in particular saying British Prime Minister David Cameron became "distracted" after the intervention.
Mr Obama, 54, said the best day of his presidency was when he passed the healthcare reforms, bringing near-universal medical coverage to Americans.
"We sat out on the Truman Balcony with all the staff that had worked so hard on it and I, I knew what it would mean for the families that I'd met who didn't have health care," Mr Obama said.
He also recounted that his worst day in the White House was "the day we traveled up to Newtown after Sandy Hook" when 20 children, mostly first-graders, were killed on December 14, 2012 at an elementary school. He spoke at a local prayer vigil two days later.
As for his biggest accomplishment, Mr Obama said he believes it would be his actions just after taking office following the 2008 recession, "saving the economy from a Great Depression."
Mr Obama, the 44th US President, will demit office on January 20, 2017 after two consecutive four-year terms. He is the first African American to hold the office.