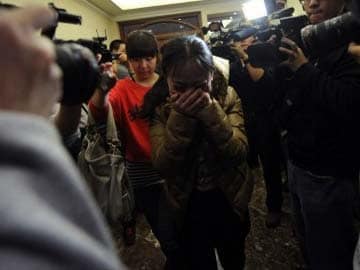 Beijing:
The families of missing Chinese passengers and web users across the country expressed fears Sunday for their relatives and compatriots on board missing Malaysia Airlines flight MH370.
More than 24 hours after the airplane vanished from radar screens, the disappearance was the top topic on Sina Weibo, a Chinese equivalent of Twitter.
According to the airline 153 Chinese citizens were among the passengers on the flight, which was a codeshare with China Southern Airlines, accounting for around two thirds of those on board.
If the loss of the aircraft is confirmed it would be China's second-worst air disaster, and the worst globally since 2001.
A widely circulated post on China's hugely popular messaging app WeChat read: "MH370, we hope the radar can see you. If you copy, keep flying at your current height until you reach your destination.
"We'll clear the way for you. Everybody is more than happy to let you be the first to land.
"The sky is clear, with temperature in Beijing at five degrees Celsius, a little bit cold. Please wear your coats to keep warm.
"Remember to hug your family and friends after you disembark. They love you, they really do."
The Chinese passengers included a group of artists who had taken part in a painting and calligraphy exhibition in Kuala Lumpur, reports say.
At a hotel in Beijing friends and relatives of those on board waited for news, many of them looking tired and worried.
One man told reporters as he exited the hotel that he was going to "sort out his passport" -- a sign that some relatives may be planning to travel to Malaysia.
Malaysia Airlines has dispatched teams of counsellors and staff to help, but several family members have criticised its handling of the disappearance and a lack of information.
A middle-aged woman who gave her surname as Nan held back tears as a pack of reporters surrounded her.
Her husband's brother was on the flight, returning from a business trip, and she took a train to Beijing from Shanghai after she found out on Saturday afternoon.
"The airline company didn't contact me, it was a friend," she said. "I can't understand the airline company. They should have contacted the families first thing.
"I don't have any news. I'm very worried, my family member was there."
Another middle-aged woman, Peng Keqing, told reporters that her husband's sister, who had been working in Singapore, was on board.
"We've just been waiting," she said. "We arrived last night. We didn't get any direct notice, I checked the information online."
A man surnamed Liu from the city of Tianjin said his son, who has a seven-year-old child, was on a business trip with a colleague.
"He was 33 this year," Liu said. "He has a child. We didn't tell his child. His wife knows, but we didn't let her come to Beijing, in case it was too much."
Waiting outside the family-members-only room was a middle-aged man surnamed Li, who wore black sunglasses and looked distressed.
"I'm not a family member; a friend was on the plane," he quietly told reporters. "He was over 40. We have been friends for a long time. The news is everywhere; that's how I know."