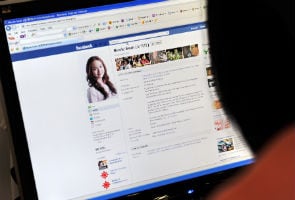 Chicago:
A feud which started on Facebook ended with the early-morning slaying of a young Tennessee couple, found shot in the head with their sobbing baby still clutched in her dead mother's arms, police said.
Easy to anger, Janell Potter had been making trouble in the tiny town of Mountain City for years now, Sheriff Mike Reece said on Friday.
But nobody ever thought it would get to the point where her father and boyfriend stand accused of murder on her behalf, Reece said.
"Why they targeted this boy and girl to murder them out of all these people they've had trouble with, I don't know," Reece told AFP.
"There've been a couple cases actually wound up in court over harassment with this girl over this Facebook thing. This time it really got out of hand, that's all we can find out for the motive to this."
Potter, who is about 30 years old, has a physical disability and spends most of her day on Facebook, where she's been involved in several disputes that have spilled over into the real world, Reece said.
She gets very angry when people block or 'defriend' her and responds by calling to harass people who try to cut her off.
Potter and her father have also been known to get into verbal altercations at the supermarket if they run into someone they feel had slighted Potter online.
"Our 911 director here -- he was her friend on Facebook. Well, he took her off on Facebook and here come her and her mom and her father filing a complaint," Reece said.
Things got so bad with Billy Clay Payne, 36, and Billie Jean Hayworth, 23, that they filed harassment charges against Potter last year for threatening them online and over the phone.
Investigators are still piecing together what happened to escalate the feud to the point of bloodshed.
They know that Potter's boyfriend -- who is also Payne's second cousin -- testified on her behalf during the court case. And most of the 150 people they interviewed told them the Potters were probably to blame.
Jaime Lynn Curd, 37, confessed on Monday to participating in the slayings, Reece said. Marvin 'Buddy' Potter, 60, was arrested early Tuesday. Both are being held in jail on murder charges.
Payne and Hayworth lived with Payne's father, who left for work about a half hour before they were killed at 6 am on January 31.
Their bodies were discovered nearly five hours later by a friend who'd stopped by. In addition to the gunshots to the head, Payne's throat was slit.
"We've never had nothing like this," Reece said, adding that at first people were afraid it was some kind of a mafia hit in the sleepy Appalachian town.
There's a lot of pressure in town -- especially from the families of the victims -- for the sheriff to arrest Potter.
"We're going to have to figure some way to actually attach her to this other than it was her father and boyfriend that did it," Reece said. "We're going to have to prove she played some part in this. That may be difficult."