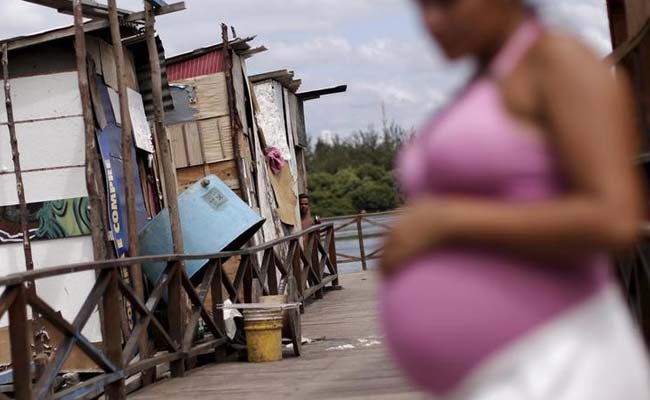 New York:
Expectant couples planning "babymoon" vacations are increasingly steering clear of Latin America and the Caribbean amid warnings about a suspected link between a Zika virus outbreak in the region and birth defects, travel agents say.Airlines and hotel chains say it is too early to tell if the Zika epidemic is affecting bookings. But some "babymooners" - parents-to-be taking last-hurrah vacations - have backed out of trips and changed itineraries.
"There's been a lot of cancellations," said Lauren Machowsky, a travel advisor at New York-based SmartFlyer. "Some people are freaked out."
Machowsky, who is herself expecting a child and called off a planned vacation to Anguilla, said she is redirecting a lot of people to Florida and pointing clients to travel warnings issued by the U.S. Centers for Disease Control and Prevention (CDC).
"I refer them to the CDC website and say, 'Listen, this is my experience. I was going away and had to cancel,'" Machowsky said.
On Monday, the World Health Organization declared the Zika outbreak an emergency because of evidence that the mosquito-borne virus is linked to a spike in birth defects in Brazil. The current outbreak has spread to at least 25 countries and territories, most of them in the Americas. The CDC has advised pregnant women to avoid travel to areas with an active Zika outbreak.
Parenting website babycenter.com asked pregnant readers with plans to travel to Zika-affected areas if they would change course. About half of 1,118 respondents said they planned to cancel, and 27 percent said they were keeping their plans. The rest were undecided.
New Hampshire-based travel agent Darcy Allen, of Travel by Darcy, said she's had a handful of cancellations and estimated 80 percent of her babymoon clients are avoiding Mexico.
"It's certainly a factor in deciding where they want to go," said Allen.
In another sign of Zika's impact on travelers, sales of trip cancellation insurance have surged among people booking Latin American vacations, RoamRight, a top U.S. provider, told Reuters on Monday.
Newlyweds hoping to start a family also are cautiously evaluating honeymoon options, said New Jersey-based Mindy Gilbert of My Vacation Lady.
"I have been asking personal questions like, 'Are you pregnant? Do you plan on conceiving,' - something I've never asked before," she said.
One couple that had hoped to spend their honeymoon in Mexico's Riviera Maya is now waiting to see how the virus situation develops, she said.
Several travel agents said they were steering clients toward Europe and Hawaii.
Ilonka Molijn, founder of Netherlands-based BabyMoon Travel, said visiting Mexico and the Caribbean was not a huge draw for her clients before the Zika outbreak, but now "there isn't any interest in it at all."
Concerns are extending beyond babymooners and honeymooners.
Florida-based Travel Planners Inc owner Marieanne Syverson said 70 percent of her clients in January - only a small portion of whom were honeymooners - had asked about Zika. A few are rethinking their plans, she said, but she's had no cancellations.
"People are considering different destinations, absolutely," she said. "Those who were thinking of Puerto Rico or Brazil for Carnival and the Olympics are thinking maybe they shouldn't go there."
© Thomson Reuters 2016