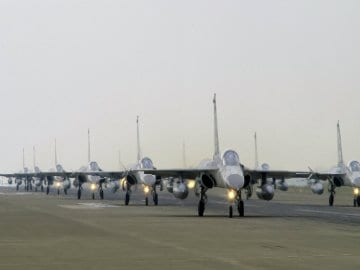 Beijing:
As China boosts its military spending, rattling neighbours over territorial disputes at sea, an AFP investigation shows that European countries have approved billions in transfers of weapons and military-ready technology to the Asian giant.
China's air force relies on French-designed helicopters, while submarines and frigates involved in Beijing's physical assertion of its claim to vast swathes of the South China Sea are powered by German and French engines -- part of a separate trade in "dual use" technology to Beijing's armed forces.
Chinese President Xi Jinping announced stepped-up production of the Airbus EC175 helicopter in China during his visit to France in March -- a deal analysts said could result in technology transfers to the military.
"European exports are very important for the Chinese military," said Andrei Chang, editor of the Hong Kong-based Kanwa Asian Defence Review.
"Without European technology, the Chinese navy would not be able to move."
The European Union imposed an arms embargo on China after its army killed many demonstrators in the 1989 Tiananmen Square crackdown. But member states are free to interpret the embargo loosely, analysts say.
The exports have generated friction with the United States -- which does not export arms to Beijing -- along with criticism from activists pointing to human rights violations and analysts citing regional security concerns.
An EU spokesman said in a statement that "the final decision to authorise or deny the (arms) export is the responsibility of EU member states".
Vessels of war
China -- the world's second largest military spender -- last month announced the latest of many double-digit rises in its official defence budget.
EU arms makers received licences to export equipment worth three billion euros ($4.1 billion) to China in the decade to 2012, according to annual EU reports on the trade.
The most recent said arms exports worth 173 million euros ($240 million) were approved in 2012, with France issuing more than 80 percent of them by value. A French parliamentary report said the country delivered China arms worth 104 million euros ($140 million).
Most of France's arms exports to China from 2009 to 2013, were accounted for by the production of Airbus helicopters in China for use by China's military, according to analysts from the Stockholm International Peace Research Institute (SIPRI), which monitors arms transfers.
Other EU licences included almost three million euros ($4.2 million) worth of "smooth-bore weapons" and accessories, approved for export by Britain, and nearly 18 million euros ($25 million) worth of "vessels of war" or their accessories and components, authorised by the Netherlands.
Most of Beijing's military imports last year came from Russia while France, Britain and Germany supplied 18 percent, SIPRI estimates.
'Very lax, very loose'
China is on track to become a major military power.
While it calls its expanding capabilities peaceful and aimed at self-defence, relations with its neighbours have soured in recent years, especially rival Japan, with experts warning of potentially dangerous escalations if either side miscalculates.
Tensions spiked last year when a Jiangwei-class Chinese frigate was among the vessels which Tokyo accused of locking fire-control radar on a destroyer and helicopter near disputed islands, an allegation Beijing denied.
Military experts believe the frigate relies on diesel engines produced by German firm MTU.
Another ship involved in recent tensions -- a Jiangkai-class vessel -- uses engines made by SEMT Pielstick, a French diesel engine manufacturer owned by German firm MAN Diesel and Turbo, according to analysts and specifications posted on Chinese military websites.
MAN told AFP that its Chinese licensees have supplied about 250 engines to China's navy.
MTU said it "acts strictly according to the German export laws", without elaborating.
The engines are exported as "dual use" -- having civilian and potential military applications -- so are exempt from the EU arms embargo.
Beijing's military has acquired an array of such items from Europe over the past decade, including software used to design fighter jets.
German-designed engines chosen for their low noise levels power virtually all non-nuclear Chinese submarines and several classes of Chinese frigates deployed in the South China Sea, where Beijing has a host of territorial disputes, analysts say.
Citing the co-production deal signed in France, Chang said: "China uses the name of civil purchase to purchase French helicopter engines, and they shift those engines into military helicopters."
"If (China) knows how to design the middle-sized EC175, they will know how to design a middle-sized military transport helicopter."
China's recent military helicopters "appear to just be upgrades" of Airbus designs, said Roger Cliff, military analyst at the US-based Atlantic Council.
Bernadette Andreosso, director of European studies at Ireland's University of Limerick, described Europe's dual-use export controls as "very lax, very loose".
"China represents much more of a threat today to stability in the Pacific and elsewhere," said Andreosso. "We might have to sacrifice some of our competitiveness to have greater security."
Trading values for arms?
Arms exports have created tension between the EU and US. According to SIPRI the US has not exported any arms to China in any of the recent years for which it has data. China's defence ministry declined to comment.
Airbus Group said in a statement: "We strictly abide with all laws and regulations relating to any exports towards China, including the US laws.Our governments are fully aware of the exports that are made to China, as in many cases they require specific licences."
Campaigners also worry about human rights in China, which jails dissidents and deploys troops in sensitive areas including Tibet.
"The EU is supposed to be based on the promotion of human rights and democracy, but all too often these values are overridden in the name of short-term profits for arms companies," said Andrew Smith, of the UK-based Campaign Against Arms Trade.
Emil Kirchner, an EU policy expert at Britain's University of Essex, said East Asian tensions meant the exports could eventually damage EU interests.
"Already, cynics claim that if the People's Liberation Army went to war tomorrow, it would employ an arsenal filled with equipment from Germany, France and Britain," he said.