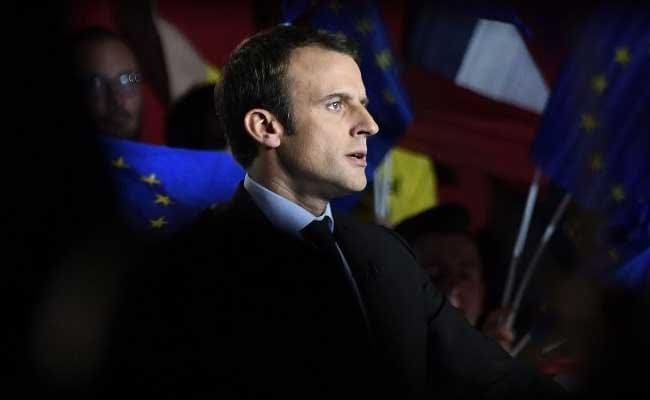 Paris, France:
France took a hard line Saturday over a huge trove of documents hacked from presidential frontrunner Emmanuel Macron's campaign, warning on the eve of the election that anyone spreading them could face criminal charges.
The warning came after the pro-European centrist's team lambasted a "massive and coordinated" hack that resulted in thousands of emails, accounting details and internal documents being posted late Friday.
The leak was an 11th-hour twist ahead of Sunday's decisive run-off after a bruising and divisive campaign pitting the 39-year-old former banker who embraces free-trade against his anti-EU, far-right rival Marine Le Pen.
"The dissemination of such data, which have been fraudulently obtained and in all likelihood may have been mingled with false information, is liable to be classified as a criminal offence," France's electoral commission said in a statement.
The documents spread on social media just before midnight as the candidates officially wrapped up campaigning, in what Macron's team termed an attempt at "democratic destabilisation, like that seen during the last presidential campaign in the United States".
Hillary Clinton has alleged Russian hacking of her campaign's emails was partly to blame for her defeat by Donald Trump in the US presidential election in November.
Macron's campaign employs tough server protections and network encryption, but experienced hackers can always find a way in.
"In this kind of organisation the real potential fault-line is the human element," the head of computer services for En Marche! recently told AFP, requesting anonymity.
Because security procedures can become long and cumbersome, some people can be tempted to get around them by using personal email services which are little or badly protected.
Macron's team said the files were stolen weeks ago when several officials from his En Marche party had their personal and work emails hacked -- in one of "an intense and repeated" series of cyber-attacks targeting the candidate since the launch of the campaign.
"Clearly, the documents arising from the hacking are all lawful and show the normal functioning of a presidential campaign," aides said in a statement.
But they warned that whoever was behind the leak had mixed fake documents with real ones "in order to sow doubt and disinformation".
- Campaigning lawmaker dies suddenly -
The WikiLeaks website on Friday posted a link to the documents on Twitter, saying it had not yet discovered fakes in the cache of files and adding "we are very sceptical that the Macron campaign is faster than us."
Last month, cybersecurity research group Trend Micro said Russian hackers called Pawn Storm had targeted Macron's campaign, using "phishing" techniques to try and steal personal data.
Senior Le Pen aide Florian Philippot suggested on Twitter that the leak might contain information the media had deliberately suppressed.
Polls released earlier Friday had showed Macron gaining momentum, forecasting victory for the pro-European, pro-business former banker with around 62 percent to 38 percent for Le Pen.
Macron and Le Pen -- who is hoping to ride a global wave of anti-establishment anger to the Elysee Palace -- have offered starkly different visions for France during a campaign that has been closely watched in Europe and around the world.
The reaction to the leaks came after a frantic final day of campaigning, which included the tragic death of a socialist lawmaker after she spoke at a Macron rally.
Corinne Erhel, 50, was the last to take the stage Friday in western France when she suddenly collapsed. She was rushed to hospital, where she was pronounced dead.
"I learned with immense sadness of the death of Corinne Erhel at the event in Plouisy, where she was speaking to 300 activists," wrote French lower house speaker Claude Bartolone, a socialist.
Fresh security fears also surfaced on Friday following the arrest of a suspected extremist who had pledged allegiance to the Islamic State group.
Guns were discovered as well as the pledge on a flash drive and several of the group's flags, sources close to the case told AFP after the arrest in Evreux, north of Paris.
The suspect, a 34-year-old Muslim convert, was arrested early Friday after police found his car near the base.
Le Pen has tried to portray Macron as being soft on security and Islamic fundamentalism, playing to the concerns of many of her supporters after a string of terror attacks in France that killed more than 230 people since 2015.
Three days before the first-round vote in April, a policeman was shot dead in an Islamic State-claimed attack on Paris's Champs-Elysees, and jitters rose again on Friday when police arrested a suspected extremist near a military airbase.
© Agence France-Presse
(Except for the headline, this story has not been edited by NDTV staff and is published from a syndicated feed.)