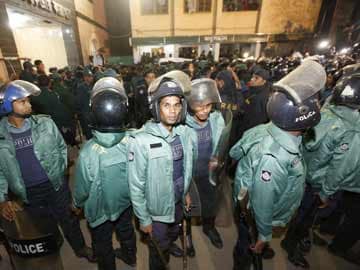 Dhaka:
Eight student activists of the ruling Awami League were sentenced to death and 13 others were given life terms today by a fast-track Bangladeshi court here for hacking to death a Hindu man during a nationwide strike in 2012.
"They (the eight) will be hanged to death," pronounced tribunal-4 judge ABM Nizamul Haque at the packed courtroom as six convicts appeared in the dock.
During the 10-minute proceedings of the day, the court observed that Biswajit Das' murder case is quite different from the others. It took place in the broad daylight instead of night which was heinous and deplorable killing, the court said.
Two other death penalty convicts and 11 of the 13, who were awarded the life term, were tried in absentia as they were on the run to evade punishment. Under the Bangladeshi law, the High Court must review death penalties even if the convicts do not appeal against the lower court's verdicts.
The Chhatra League activists hacked to death the 24-year-old tailor on the street in Old Dhaka's Bahadur Shah Park area on December 9 last year during the opposition enforced blockade. The incident was captured live on television cameras.
Bangladesh Chhatra League (BCL) is the student front of the Awami League.
Sutrapur police filed a murder case in this regard on the same day. On June 2, charges were framed against the 21 Chhatra League activists. The murder drew flack on the ruling Awami League.
Reacting to the verdict, Das's brother said, "I am satisfied... we got justice."