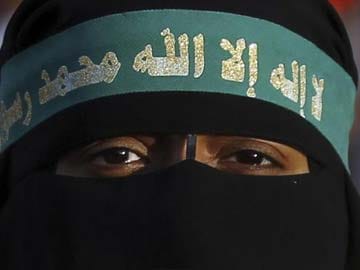 Cairo:
With many of its male members jailed, Egypt's besieged Muslim Brotherhood is calling up an unlikely reserve force against the army-backed government in the conservative Arab country.
At more and more protests, female members of the Islamist movement can be seen taking on security forces mounting one of their fiercest crackdowns against the group.
One newspaper front page captured the determination of the Muslim Brothers, and sisters, to survive. A photograph showed a woman wearing goggles and a gas mask over her headscarf throwing an object at security forces as she and two women were engulfed in a cloud of teargas.
Beside the photo was an image of the interior minister, one of the officials who have vowed to wipe out the movement.
"We are doing this for our classmates who are in jail and our friends who were martyred," says Al Shaimaa Hussein, 21, a media student at Al-Azhar University, the epicentre of student protests against the army.
The university is the Sunni Islamic world's seat of learning, and usually toes the Egyptian government line, but some students are sympathetic to the Islamist cause.
Police have killed hundreds of Islamists. They have also arrested top Brotherhood leaders, including Morsi, decimating what was once the most organised political force in Egypt.
But going after women members could pose a dilemma for the state.
While much of the public has supported tough security measures against the group, societal norms in the majority-Muslim country may cause some to chafe at action against women and girls, even those protesting against the revered army.
Those sensitivities may have figured in the calculations of the Brotherhood, who have tried but failed to turn the public against the army, which it accuses of staging a coup.
CENTRAL ROLE
Eric Trager, an expert on the Muslim Brotherhood at the Washington Institute for Near East Policy, says the Muslim "Sisterhood" has not suffered heavy blows in the crackdown.
"With their structure intact, they are able to play a more central role in mobilising for the current protests," he said.
"The fact that Egyptian authorities have typically been more hesitant to round up women than men is an added incentive for the Muslim Sisters to participate in the demonstrations."
The government came under fire last month from rights groups after a court sentenced 21 women and teenage girls to harsh prison terms for protesting. The court ended up slashing their sentences and releasing them.
Unlike her Islamist male relatives who are constantly on the run for fear of arrest, 18-year-old Olaa, an engineering student at Al-Azhar, still has freedom of movement, and she is taking full advantage of it for the cause.
"Protesting is more important than lectures and tests because this is about freedom for our country," she said, giving only her first name on account of security concerns.
Just outside her dorm, hundreds of female students chanted for the end of military rule.
They went as far as to call army chief General Abdel Fattah al-Sisi, who toppled Morsi, a traitor, despite a new law that puts severe restrictions on demonstrations.
"Our presence encourages the men to continue," said Nada Abdelrahman, 21, her face fully covered by a black veil, nervously watching a man who she suspected was an undercover state security agent.
"We can't stand by while our brothers are in jail and getting beaten up by the police."
"NO FEAR"
Sisi has promised that a political roadmap would lead to free and fair elections in Egypt. But Brotherhood members say Egypt is no freer than it was before the 2011 popular uprising that toppled autocrat Hosni Mubarak.
Al-Azhar student Shaimaa Mounir, 21, was arrested at a mosque in downtown Cairo during a protest in August. She was detained for two days at one of Egypt's most notorious prisons.
"The police think they can scare us into stopping. On the contrary, I feel no fear," she said. She wore a button with a photograph of herself with a woman friend killed in a raid on a pro-Morsi protest camp.
Prominent female Islamists are also using social media - instrumental in the protests that unseated veteran Arab rulers - to keep up pressure on the state and boost morale among young protesters.
Azza El-Garf, who represented the Brotherhood's political party in parliament before its dissolution in 2012, used her Twitter account this week to encourage the "free women" students to keep up their protests.
Her husband Badr Mohamed Badr is one of the few well-known Brotherhood members who have managed to avoid arrest, though he has kept a low profile since Morsi's fall.
The desire to defend the Brotherhood's cause has trickled down from university students to teenage girls.
"The men are in jail," says 16-year-old Shahad, her wool coat buttoned up against the cold outside Cairo University.
"We have to fight for the rights of innocent people who died," she said, recalling how her father, who she said was shot in the stomach during a protest, encouraged her to keep taking to the streets.
© Thomson Reuters 2013