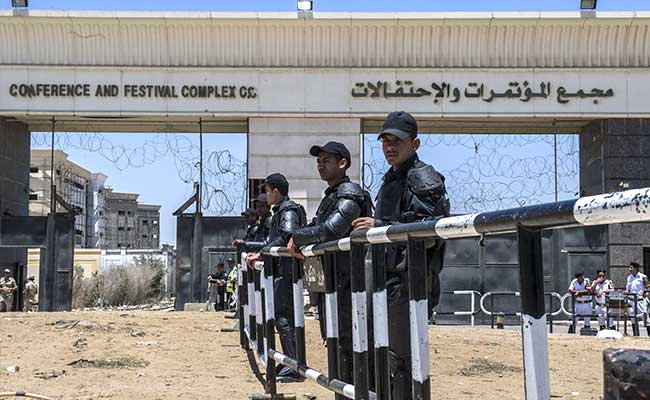 Paris:
Egyptian security forces have stepped up sexual attacks against detainees since the ouster of president Mohamed Morsi, using them as a "cynical political strategy" to crush opposition, a rights group charged Tuesday.
Morsi, Egypt's first freely elected leader, was deposed in July 2013 by then army chief and now President Abdel Fattah al-Sisi after mass protests against his sole year in office.
Since his removal, a relentless government crackdown on dissent - mostly involving Morsi supporters - has left hundreds dead in street clashes and thousands jailed.
Many more have been sentenced to death after mass trials, described by the United Nations as "unprecedented in recent history".
Morsi himself has been sentenced to death along with dozens of fellow defendants for their role in a mass jailbreak during the 2011 uprising that ousted longtime autocrat Hosni Mubarak.
On Tuesday, the Paris-based International Federation of Human Rights released a report, based on testimonies of victims, activists and witnesses, charging that sexual violence by security forces against detainees has surged since the ouster of Morsi.
"The scale of sexual violence occurring during arrests and in detention, the similarities in the methods used and the general impunity enjoyed by the perpetrators point to a cynical political strategy aimed at stifling civil society and silencing all opposition," said FIDH President Karim Lahidji.
The report accused the "Egyptian police, National Security Intelligence officers and the military" of abusing detainees with "sexual violence, including rape, sexual assault, rape with objects, electrocution of genitalia, sex-based defamation and blackmail".
Sex abuse fight 'hijacked'
It said such violence is widely tolerated by the authorities, with perpetrators, be they state-employed or civilian, rarely having to answer for their crimes.
The report quoted several victims who talked of how security forces assaulted them sexually to force them or their relatives into making false confessions.
One female victim, identified only as A, talked of how police officers tried to rape her to force her husband into making a confession at a police station in the capital's Nasr City district.
She said the officers "beat me... then they made me enter the room where he was and tried to rape me."
"My husband begged them to leave me alone, shouting 'Let her go, I'm going to talk'. They said to him 'No, speak first and we'll let her go'. They pulled off my veil and started again; I began screaming."
"They made me sit with my hands tied and said 'Go on, we'll hang her from the door to make him talk'," she told FIDH.
The report said the testimonies indicate sexual violence is used with the knowledge of agents of the interior ministry and the armed forces.
"While tolerating these crimes, Sisi's regime has also hijacked the fight against sexual violence as a pretext to tighten state security," the report said.
"The Egyptian government must immediately put an end to these crimes, committed by actors under their direct authority," said Amina Bouayach, secretary general of FIDH.