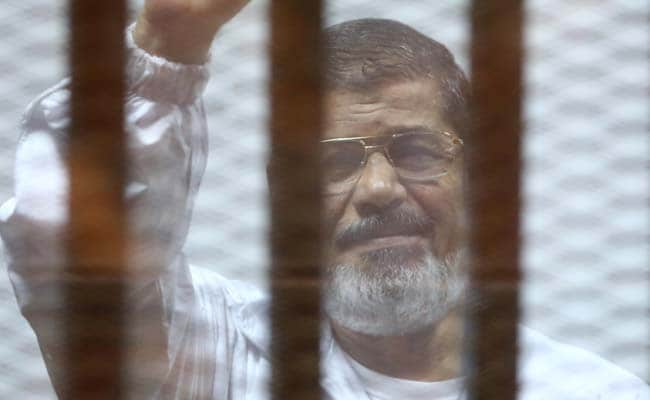 Cairo:
An Egyptian court today postponed its final ruling on ousted president Mohamed Morsi, who was sentenced to death along with dozens more over a mass jailbreak during the 2011 uprising.
The court said that on June 16 it would also announce its verdict against Morsi and 18 other defendants in a separate case of espionage.
On May 16, Morsi and more than 100 others were sentenced to death after being convicted of plotting jailbreaks and attacks on police during the uprising more than four years ago that overthrew president Hosni Mubarak.
The death sentence was referred to the mufti, the government's interpreter of Islamic law who plays an advisory role, and a final ruling had been scheduled for Tuesday.
Judge Shabaan El-Shamy said that the final ruling in the jailbreak case will now come in two weeks.
"The final ruling will be on June 16 as the court has to complete its deliberations on the opinion of the mufti which was received only this morning," Shamy said on Tuesday.
The court's final ruling can still be appealed.
Morsi, in a caged dock and wearing the blue uniform of a convict after already being sentenced in another case to 20 years for inciting violence, raised his fists in defiance before being escorted from the courtroom, an AFP correspondent reported.
Elected president in 2012 as the Islamist Muslim Brotherhood's compromise candidate after its key leader Khairat al-Shater was disqualified, Morsi ruled for just a year before mass protests spurred the military to overthrow him in July 2013.
He was among dozens of Islamist leaders detained amid a crackdown in which hundreds of his supporters were killed.
Morsi, 64, was in prison when the anti-Mubarak uprising erupted on January 25, 2011, having been rounded up along with other Brotherhood leaders a few days previously.
On January 28 that year, protesters fuelled by police abuses torched police stations across Egypt, allowing thousands of prisoners to escape when the force all but collapsed.
Morsi and 34 others were also tried in a separate case of espionage.
Sixteen have already been sentenced to death for colluding with foreign powers, the Palestinian Islamist group Hamas and Iran to destabilise Egypt.
The court has yet to pronounce verdicts on Morsi and another 18 in this case.
In April, a court sentenced Morsi to 20 years in prison in another case over abuses against protesters involved in clashes in 2012 when he was in office.
Since Morsi's overthrow, the police have largely been rehabilitated in the eyes of the public, with officials and loyal media blaming the Brotherhood and foreigners for the violence of the anti-Mubarak uprising.
The army chief who overthrew Morsi, Abdel Fattah al-Sisi, was himself elected president last year.
He has pledged to eradicate the Brotherhood, once Egypt's largest political movement and now blacklisted as a "terrorist group".