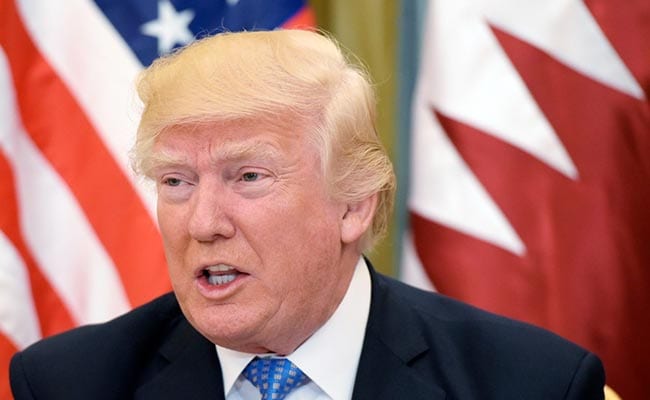 President Donald Trump returned home Saturday night to a country wondering how he would address a crisis of bad news that has only grown more dire during his nine-day tour abroad.
As the FBI continues an investigation of Trump's top associates and as he reportedly considers a White House staff shake-up, the president's attorneys have urged him to lay off his habit of aggressive and impulsive tweeting - lest it make matters even worse for him.
So what did Trump do upon returning to his embattled White House? He went on a Twitter rant.
It started about 8 a.m. Sunday, with a somewhat delayed celebration of Greg Gianforte's victory in Montana's special congressional election - despite facing assault charges for allegedly attacking a reporter who'd asked him about the GOP's health-care bill.
Eight minutes later, Trump informed the world that his first trip abroad as commander in chief had been "a great success":
"Just returned from Europe. Trip was a great success for America. Hard work but big results!"
Others' critiques of the president's trip have been more complicated.
He was "both charming and boorish," The Washington Post wrote - deferential to the king of Saudi Arabia but appearing to shove a Balkan prime minister out of the way to get a better spot for a NATO photo op.
But with Trump's assessment of his trip dispensed within 16 words, he turned his attention to a subject it has often landed on before:
"It is my opinion that many of the leaks coming out of the White House are fabricated lies made up by the #FakeNews media."
Fake news - a mantra of Trump's campaign and presidency.
The president early on singled out outlets such as NBC, ABC, CNN, the New York Times and "much of the media in Washington, D.C. - along with New York, Los Angeles, in particular," as disseminators of fake news.
"Whenever you see the words 'sources say' in the fake news media, and they don't mention names..."
In the tweet above, Trump didn't specify which anonymous sources he is taking issue with. Possibly those who revealed last week that his son-in-law has become a focus in the FBI's investigation of possible collusion with Russia and financial crimes by Trump's inner circle.
He has railed against anonymous sources before - once in a tirade against the media at the Conservative Political Action Conference in February.
"Let their name be put out there. Let their name be put out," Trump said then.
However, his own administration has often insisted on anonymity with the media - notably when the White House organized a defensive interview with two unnamed "senior administration officials" during one of the president's early crises.
"....it is very possible that those sources don't exist but are made up by fake news writers. #FakeNews is the enemy!" he tweeted at 8:45 a.m. Sunday.
Trump's 8:45 a.m. tweet pings off one he wrote a few months earlier, when he listed the New York Times and most major news networks as "the enemy of the American People."
For his final tweet of Sunday morning, it was back to Montana and the specific sins of the news media.
"Does anyone notice how the Montana Congressional race was such a big deal to Dems & Fake News until the Republican won? V was poorly covered"
The Washington Post has written about Gianforte's victory more than a dozen times since Thursday.
(Except for the headline, this story has not been edited by NDTV staff and is published from a syndicated feed.)