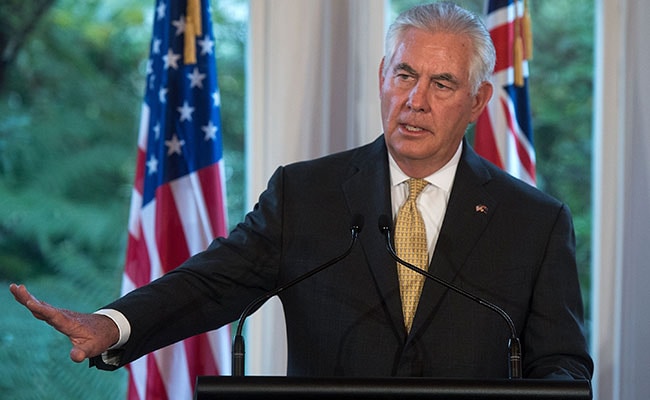 Washington:
The Donald Trump administration is beginning an inter-agency policy review of the relations with Pakistan, US Secretary of State Rex Tillerson has said in Washington, underlining that the US president has specifically asked questions about the level of support and funding to Islamabad. "We are beginning an inter-agency policy review towards Pakistan. This (continuation of US aid to Pakistan) is going to be one of the considerations," Tillerson told lawmakers during a Congressional hearing on the State Department's annual budget proposals.
He made the remarks while responding to a question from Congressman Dana Rohrabacher as to why the US continues to give financial assistance to Pakistan.
"Are we still giving money to Pakistan? Dr Afridi (who helped locate Osama bin Laden)...is being held in a dungeon there, and the Pakistanis continue -- we know the ISI continues -- with the notorious support of terrorist elements in Afghanistan. Why are we still giving Pakistan any aid at all?" Rohrabacher asked.
Tillerson said this is one of the things being considered by the inter-agency review.
"The president has asked the question specifically about our level of support and funding to Pakistan. No decision is to be taken until we complete that policy review," Tillerson said.
"As you well can understand and appreciate, Pakistan and our relationship with them touches on some much broader issues relative to stability in Afghanistan and how we achieve that, but also stability in the Indo-Pacific region. It is a very complex relationship we have with the government of Pakistan, but your concerns are all well founded," said the Secretary of State.
Hoping that the Trump administration will take a realistic view of the region, Rohrabacher said Pakistan is acknowledged by most people he has dealt with as the source of terrorism in that part of the world.
"And if we don't succeed in Afghanistan, it will be because of the ISI in Pakistan," Rohrabacher said.
"With that said, Afghanistan looks like it's not going in the right direction. And there are some creative ways to handle this. We continue to have troops involved there, but some people are calling for more troops. I hope that we look for other methods rather than sending American troops into Afghanistan," the Congressman said.
The Afghan policy is under review as well, he said. "I mention that in the context of Pakistan because you cannot work one without the other. In the interim, though, we have had inter-agency discussions with the president about how to preserve the opportunity for a long-term solution in Afghanistan where we do not leave Afghanistan, where we never allow Afghanistan to become the platform for terrorism to be launched against the United States or certainly others," Tillerson said.
"That work we expect to complete over the coming weeks, review it with the president, make a final policy decision. But it has not been going well in Afghanistan. There are steps we need to take to at least prevent further deterioration while we get our new policies in place," he said.
What the US is following now are the policies of the prior administration, and some steps need to be taken to stem the effects of those while the Trump government gets its policies in place, Tillerson said.
Joining Rohrabacher, Congressman Ted Poe said Pakistan is playing the US.
"We give them money. That money ends up in the hands of bad guys in Afghanistan who hurt Americans. And I personally think that Pakistan should not get any American money," he said.
"They get 500 million dollars a year not counting the military. They should be designated as a state sponsor of terror. And they also should be removed from the major non- NATO ally status that they have," Poe said.
"But I know this has been a discussion for years to try to get Pakistan on board to do the right thing. They don't. What are we going to do?" he asked.
(Except for the headline, this story has not been edited by NDTV staff and is published from a syndicated feed.)