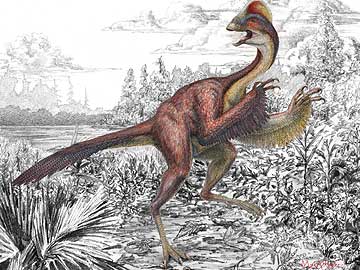 London:
The fossilised remains of Pterosaurs or flying reptiles - who were wiped out nearly 120 million years ago from earth - have provided a slice of prehistoric life - revealing that these dinosaur-era creatures were extremely social.
Paleontologists found Pterosaur eggs, thousands of fossilised Pterosaur bones and nearly fully intact Pterosaur skulls of both males and females at Turpan-Hami Basin, south of the Tian Shan Mountains in Xinjiang, northwestern China.
"Based on the discoveries, we know that this Pterosaur lived together with other Pterosaurs and laid its eggs in the bank of the ancient lake, similar (behaviour) to that of some modern birds such as flamingos," explained Xiaolin Wang, a vertebrate paleontologist from Chinese Academy of Sciences.
The remains also represent a new Pterosaur genus and species - the formidable-looking Hamipterus Tianshanensis.
Sediments at the site also suggest that a huge colony of these large flying reptiles perished during a violent storm.
Before tragedy struck them, young and old alike were enjoying life next to what was then a peaceful and beautiful lake.
Adults lived around youngsters in crowded surroundings that must have been buzzing with social activity.
In the prehistoric era, the Pterosaurs must have been attracted to the area due to its abundant food opportunities and the moist environment, Discovery News reported.
The findings appeared in the latest issue of Current Biology.