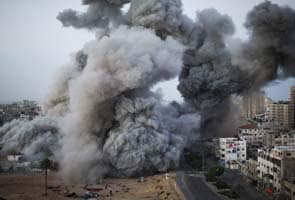 Gaza City:
Talks on the possibility of a truce to end five days of violence in and around Gaza are under way, and a deal could be reached "today or tomorrow," a Palestinian official told AFP on Sunday.
"There are serious talks to reach a truce, and it is possible that understandings will be reached today or tomorrow," the senior official said, speaking on condition of anonymity.
The official's comments were confirmed by an Egyptian security source, who said: "Egypt has continued meetings and intensive communication with all parties to reach a truce as quickly as possible.
"We have reached important understandings but we still have a little way to go in order to complete the truce agreement in order to achieve security and stability and... ensure it doesn't happen again."
A source close to the negotiations told AFP that a series of meetings were being held in Cairo between the Palestinian factions, involving both Hamas politburo chief Khaled Meshaal and Islamic Jihad leader Ramadan Shallah.
"The organisations want to completely end the siege on Gaza and stop all the Israeli aggression and in return, all attacks on Israel will stop," the source said.
Overnight, talk of a truce agreement intensified after Egyptian President Mohamed Morsi said his government was in talks with Israel and the Palestinians and that there were indications they could reach a truce "soon."
"There are some indications that there could be a ceasefire soon," Morsi said at a joint news conference with Turkish Prime Minister Recep Tayyip Erdogan on Saturday evening, adding that there were still "no guarantees."
Israel's relentless bombardment of Gaza, which began on Wednesday, has so far killed 49 Palestinians and wounded more than 450. Meanwhile, armed groups have fired hundreds of rockets at Israel, killing three people and injuring 18.