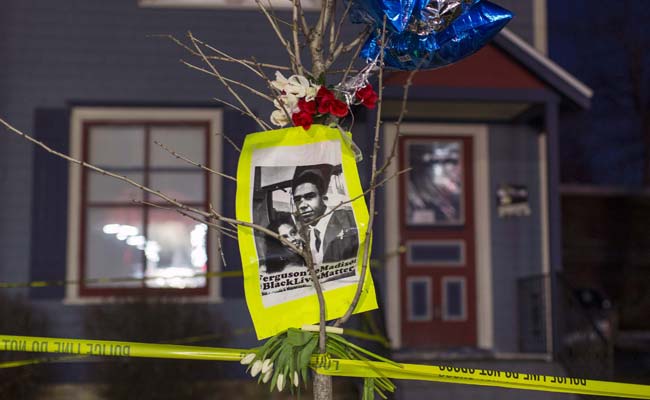 Madison:
About 1,500 people, some banging plastic pails or blowing whistles, marched on Wednesday to the Wisconsin corrections department in Madison to protest the fatal police shooting last week of an unarmed biracial young man.

The shooting of Tony Robinson, 19, in Wisconsin's capital by a white Madison police officer on Friday was the latest in a string of officer involved deaths around the country that have heightened concerns about racial bias in US law enforcement.

A rally over another such shooting drew about 200 protesters on Wednesday evening in Decatur, Georgia.


Activists there are questioning the use of force against Anthony Hill, a 27-year-old black man, who was running naked and unarmed through the parking lot outside his apartment complex when he was shot and killed by a white police officer in the Atlanta suburb of Tucker on Monday.
Carrying placards that read, "Black Lives Matter" and "Stop Killer Cops," some in the crowd shouted epithets at the police officers who were guiding the marchers through downtown traffic.
In Wisconsin, the mostly young protesters carried signs reading "Justice for Tony".
Robinson's mother, Andrea Irwin, said her son would be in awe of the crowd's support and that she wanted no violence done in his name.
"I want to be able to make a change," Irwin said. "I don't want my son to have died in vain."
No arrests were made, and police presence was light, with only about 10 uniformed officers.
The officer who shot Robinson, Matt Kenny, had responded to reports of a man who had battered someone and was dodging traffic in the street, police have said. Police said Kenny shot Robinson after the young man attacked him. Kenny is on paid administrative leave pending an investigation by Wisconsin's Department of Justice.
Since Friday, mourners and protesters have gathered each day outside the house where Robinson died. On Monday, about 2,000 Madison teenagers walked out of high school classes to demonstrate at the state Capitol.
The protests, though peaceful, were reminiscent of the sometimes violent clashes that erupted in Ferguson, Missouri, in August after Michael Brown, 18, was fatally shot by a police officer, and again in November after a grand jury declined to indict the officer.
Brown's shooting, and the choking death in New York City of Eric Garner, both of whom were black and unarmed, triggered a wave of demonstrations against police use of force around the nation.
© Thomson Reuters 2015