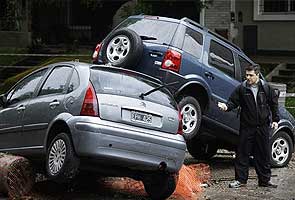 Buenos Aires:
At least two people were killed in Argentina when torrential rain drenched the Buenos Aires area on Monday, knocking out power, and flooding streets and train tunnels, officials said.
A 65-year-old man drowned when he fell down trying to rescue a television set from his flooded home in the town of Isidro Casanova, just west of Buenos Aires, the victim's son told local media.
And a woman was electrocuted at her home in the Lanus neighborhood in the outskirts of the capital, local officials said.
Five of the city's seven subway lines as well as the regional train system was forced to stop for several hours during the day due to track flooding.
Due to the delays, many people decided to drive in, resulting in a traffic nightmare as many traffic lights were inoperable due to widespread blackouts.
The Provincial Emergency Council (CPE) said that nearly 2,900 people were moved to shelters in the greater Buenos Aires area due to flooding.