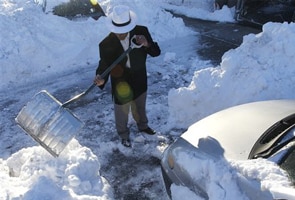 New York:
A powerful blizzard on the East Coast of the United States disrupted travel by air, rail and road on Monday, stranding thousands trying to return home after the Christmas holidays.
Major airports and railways were shut for a second day after the heavy snowfall, which hit New York City, Boston, and Newark Liberty Airport, among other places.
Buses were stranded on snowed-in highways and passengers in New York City spent a cold night stuck in an unheated subway train.
A taxi driver, Shafqat Hayatin, also had to spend the night in his car, when snow fell so quickly and heavily that it stopped his car in its tracks soon after midnight.
Officials urged anyone who did not have to drive to stay off roads in the region, where high winds pushed snow into deep drifts across streets, railroads and runways.
More than two feet (60 centimetres) of snow had fallen in some areas by Monday morning.
More than 2,400 sanitation workers were working in 12-hour shifts to clear New York City's 6,000 miles (10,000 kilometres) of streets.
"I would just urged to refrain from travel today if they can avoid it. Tomorrow things will be a lot better," said New York City Mayor Michael Bloomberg.
In New York City, hundreds of cold, hungry and tired passengers were stranded overnight at John F. Kennedy, LaGuardia and Newark Liberty airports.
Officials said they were being provided blankets and cots, but some would-be travellers were not allowed to retrieve their checked-in luggage, leaving them with no extra clothing or toiletries.
Not even New York City's subway system - usually the reliable workhorse during heavy snow - could withstand the storm.
Some subway passengers were stranded for hours on trains that broke down in Queens.
Hundreds of travellers dozed on Monday in Long Island Rail Road train cars frozen at the platform.
Others lay at the entrance to the train link to Kennedy Airport and stood helpless at the ticket office, waiting in vain for good news to flash on the schedule screens. Hours went by without a single train leaving with passengers.
Buses were knocked out as well, and cabs were rare; those who tried were assailed with a hard, frigid wind that made snowflakes sting like needles.
A blizzard warning, which is issued when snow is accompanied by sustained winds or gusts over 35 miles-per-hour (56 kilometres-per-hour) for three hours, was in effect early on Monday from Delaware to the far northern tip of Maine.
Almost 30 inches (76 centimetres) of snow fell in Bergen County, New Jersey, by Monday morning, and 20 inches (51 centimetres) was reported in New York City's Central Park early on Monday.
As bad as the storm was, it could have been worse if it had been an ordinary work day.
Children are home from school all week on Christmas vacation, and lots of people had taken off from work.
Many youngsters went out and frolicked in the snow, some of them using the sleds they got for Christmas.
Meanwhile, states of emergency were declared in North Carolina, Virginia, Maryland, New Jersey, Maine and Massachusetts.
In greater Boston, highways into the city were nearly abandoned early on Monday as many workers were given the day off and others were on vacation for the holiday week.
Amtrak cancelled its train service from New York to Boston after doing the same earlier for several trains in Virginia.
The storm is the result of a low pressure system off the North Carolina coast which strengthened as it moved northeast, the National Weather Service said.
Follow NDTV for latest election news and live coverage of assembly elections 2019 in Maharashtra and Haryana.
Subscribe to our YouTube channel, like us on Facebook or follow us on Twitter and Instagram for latest news and live news updates.