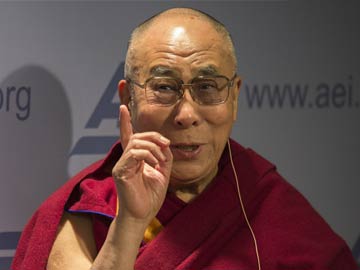 Dharamsala:
The Dalai Lama has called for democracy in China and offered prayers for victims of the Tiananmen crackdown ahead of the launch Thursday of a new campaign for autonomy in his Tibetan homeland.
Rattled by a wave of self-immolations that have highlighted the sense of desperation among Tibetans, the Nobel prize-winner and other exiled leaders are renewing their push for a "Middle Way" of peaceful autonomy within China after a four-year hiatus.
The premier of Tibet's government in exile, Lobsang Sangay, is to host a press conference in the Indian hill station of Dharamsala after taking over the job of pushing for autonomy from the revered spiritual leader.
But the Dalai Lama, who officially stepped down from political duties in 2011, stole the spotlight on the eve of the launch by urging China to embrace democracy, in comments marking the 25th anniversary of the Tiananmen Square crackdown in Beijing.
The 78-year-old offered prayers for the hundreds of people -- by some estimates, more than 1,000 -- who died on June 3-4, 1989 when Communist authorities sent in troops to crush their peaceful pro-democracy protests.
"I offer prayers for those who died for freedom, democracy and human rights," the Dalai Lama said in a statement posted on his website.
"These values are the foundation of a free and dynamic society."
The Buddhist leader said Beijing should embrace mainstream democracy which "will help China to gain the trust and respect of the rest of the world".
The comments are certain to anger Chinese authorities who have long regarded the Dalai Lama as a dangerous separatist, and censor all references to the bloodshed in Tiananmen.
Beijing has ruled Tibet since 1951, a year after invading, and it has already dismissed the renewed push for the "Middle Way" approach, which would include handing Tibetans decision-making positions in the region.
"We advise these people to give up their attempts to separate Tibet from China," foreign ministry spokesman Hong Lei told a regular press briefing on Wednesday.
In a spiky response to the religious leader's comments on Tiananmen he said: "The truth about the Dalai Lama is known to all. His statement has ulterior motives."
- Wave of immolations -
Sangay, a Harvard-educated scholar who has never visited Tibet, will present a new website and social media sites on the "Middle Way" to the Dalai Lama at the launch.
Monks will also give a briefing on the wave of self-immolations which have seen around 130 Tibetans set themselves on fire since 2009, with most dying of their injuries.
Beijing says the Dalai Lama has encouraged the self-immolations and insists that Chinese rule has brought economic development to Tibet.
US President Barack Obama and other Western leaders have called on Beijing to resume talks with the Dalai Lama's envoys on autonomy that broke down in 2010 after making no headway.
Robbie Barnett, a professor of modern Tibetan studies at Columbia University, said the "Middle Way" has made no major progress since the Dalai Lama retired from his political position, despite its backing from the US and other Western governments.
Tibetan leaders have failed to appease vocal critics within the exile community who call for Tibetans to push for total independence and who argue that Beijing will never agree to any concessions on autonomy or the return of exiles, Barnett said.
"Talks are always possible, but any positive outcome would require exceptional skill and patience on the Tibetan side, and a shift in policy direction by the Chinese side," he told AFP.
Get Breaking news, live coverage, and Latest News from India and around the world on NDTV.com. Catch all the Live TV action on NDTV 24x7 and NDTV India. Like us on Facebook or follow us on Twitter and Instagram for latest news and live news updates.