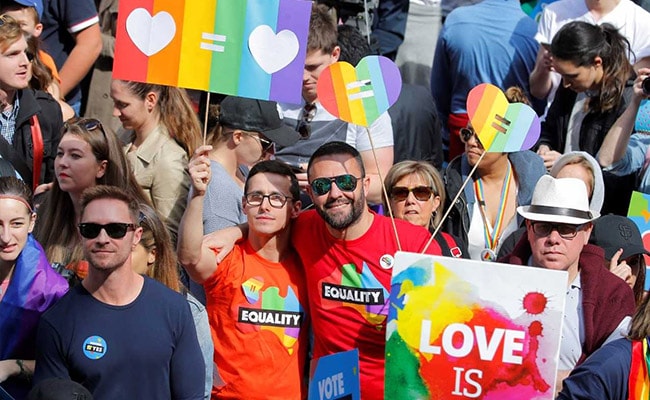 Prague:
The Czech government on Friday backed draft legislation that would make the country the first post-communist member of the European Union to legalise same-sex marriage.
The legislation was drawn up by a group of 46 mostly leftist and centrist members of parliament from six of the nine parties in the lower house, including the populist ANO (Yes) party of billionaire Prime Minister Andrej Babis.
Alongside its "agreement with the bill", the government also called for "a broad social discussion" of the "sensitive subject" of same-sex marriage in a Friday statement.
Lawmakers from the rightwing ODS, the conservative KDU-CSL Christian Democrats and the far-right SPD have refused to back the bill that is expected to be tabled in parliament later this year.
"The fundamental principle of this amendment is to offer same-sex couples and their children the same dignity and protection of family life that (heterosexual) spouses and their children already enjoy," said ANO MP Radka Maxova, one of the lawmakers who drafted the legislation.
Lucie Zachariasova, an activist with the "We are fair" NGO, told the local CTK news agency that the Czech Republic could "become the first post-communist country allowing marriage for gay and lesbian couples".
The Czech Republic accorded legal status to gay and lesbian couples in 2006 with its law on registered partnerships, but marriage has so far been banned.
Most western EU states recognise gay marriage or some form of legal partnership between same-sex couples, but rights are more limited in eastern members.
Earlier this month, the European Court of Justice ruled in favour of Romanian gay man Relu Coman's right to have his US husband Robert "Clai" Hamilton live with him in Romania.
Ex-communist EU member Romania does not recognise same-sex marriage and had argued that Hamilton was not entitled to EU residency rights awarded to spouses.
The European court ruling means that same-sex partners of EU citizens have the right to live in any member state whatever their nationality, even in countries that do not recognise gay marriage.