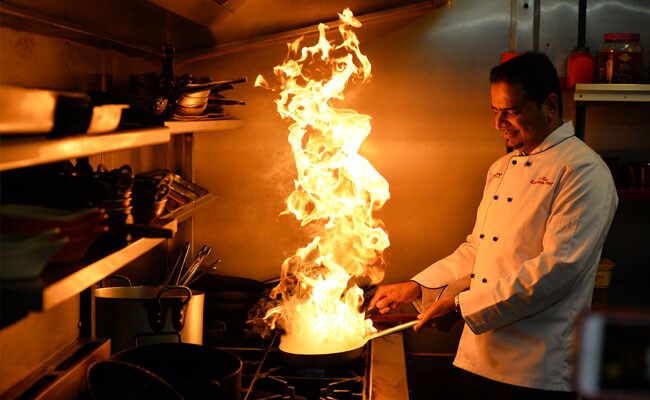 Watford, United Kingdom:
Mixing spices in a searing hot pan, cooking naan in the tandoor oven and juggling takeaway orders, restaurant owner Saiful Alam is short-staffed and stressed -- a situation he hopes Brexit will improve.
Like many of those running Britain's 12,000 curry houses, the Bangladeshi chef is struggling to find suitable staff as new immigration rules have made it harder to hire people from Bangladesh and India.
The issue has taken on political heat ahead of the June 23 referendum on Britain's membership of the European Union, after the Vote Leave campaign claimed that the problem was the fault of uncontrolled EU migration pushing up numbers of arrivals.
It said that a so-called Brexit would herald a "fairer" immigration system that treats EU and non-EU workers, particularly from former colonies in the Commonwealth with family ties to Britain, equally.
The argument resonates with Alam as he puts together dishes on his own in the kitchen of the Prince of Bengal, a modest restaurant in Watford, north of London, after his new Romanian cook failed to turn up for work.
Alam has some British staff and eastern European employees, but complains to AFP about "the language barrier and the experience -- they're not familiar with the food, the cooking, the spices".
The Bangladesh Caterers Association, an industry body, claims four to five curry houses a week are closing in Britain because of a shortage of staff.
Vote Leave campaigner Priti Patel, a government minister, last month launched a "Save Our Curry Houses" campaign, blaming EU migration for the industry crisis.
With up to one million Commonwealth residents of Britain eligible to vote in the referendum, other "Leave" campaigners have also emphasised the potential to improve ties with those countries outside the EU.
"I want stronger relationships with the Commonwealth in terms of trade and I want an immigration system that doesn't discriminate against them in favour of people from southern and eastern Europe," UK Independence Party (UKIP) leader Nigel Farage told AFP.
While the UKIP and Vote Leave message resonates with some ethnic minority voters, research suggests that they are generally in favour of staying in the EU.
Pro-EU Labour lawmaker Keith Vaz said Vote Leave was making EU migrants a "scapegoat" for more complex problems in the curry industry, saying it was trying to "play people off against each other".
James McGrory, chief spokesman for the official "Remain" campaign, said the initiative was "a smokescreen to try and hoodwink people into voting for them".
"They do not have the interests of people from the Indian subcontinent at heart," he said.
'Pale and stale'
Data from the British Election Study, which interviewed 22,000 voters up to May 4, found opinion among white voters is finely balanced on the EU but ethnic minority voters trended towards a "Remain" vote by two to one.
However, they are traditionally less likely to vote -- a situation that neither side has truly engaged with so far, according to Ashok Viswanathan, operations manager of Operation Black Vote.
OBV is a non-partisan group that works to increase engagement of black and ethnic minority groups in politics.
It faced its own criticism for a voter registration poster showing a woman in a sari on a see-saw with a skinhead pointing angrily at her, under the headline: "A vote is a vote".
Farage condemned the poster, developed by advertising firm Saatchi & Saatchi, as "divisive".
Viswanathan denied this but said it was intended to "provoke a debate that's not been happening".
"The whole political discourse of the EU referendum debate has been white, pale and stale," he told AFP.
(This story has not been edited by NDTV staff and is auto-generated from a syndicated feed.)