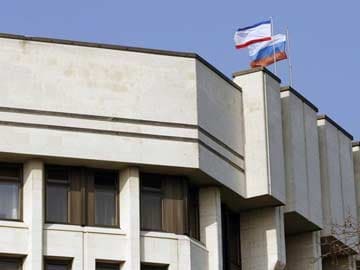 Moscow:
Crimea will take ownership of Ukrainian state companies on its territory, including the region's Black Sea natural gas fields, its first deputy prime minister said, cementing the region's independence before a referendum on joining Russia.
Crimea, a southern Ukrainian region which is home to the Russian Black Sea fleet, will vote on Sunday on whether to join Russia.
Since pro-Russian separatists took control of the regional parliament almost two weeks ago, it has declared Crimea as part of the Russian Federation.
At a news conference broadcast on Russian television, Rustam Temirgaliev said: "In the coming days the transfer is being prepared...for a series of assets, belonging to the Ukrainian state, which are located on the territory of Crimea."
He said energy company Chornomornaftohaz and the state railway company would be included, along with several resorts owned by ministries in Kiev.
"The property of private companies and private individuals remain the property of these entities," he said, adding that owners should re-register their property under Russian law.
BLACK SEA GAS
Should Chornomornaftohaz cease to be Ukrainian, Kiev would lose a key asset in its efforts to reduce its rising dependency on Russian gas imports.
Ukraine uses more than 50 billion cubic metres of gas a year, worth around $20 billion in current European market terms, more than half of which it has to import from Russia.
Disputes between Russia and Ukraine have previously led to supply cuts, triggering efforts in Kiev to develop new domestic sources in the form of onshore shale as well as offshore in the Black Sea.
Ukraine's efforts to find new gas in the Black Sea have attracted several energy majors as investors, including Exxon Mobil, Royal Dutch Shell, Eni and OMV.
Ukraine hopes its Black Sea gas production will rise from just 1 billion cubic metres per year currently to over 3 bcm in 2015, and plans to raise production to 5 bcm per year towards the end of the decade.
The plans are supported by the European Union through Ukraine's membership of the EU's energy community. As part of this membership, the European Commission is seeking to convert Ukraine from a gas transit nation into an energy hub producing its own fuel and developing storage.
The crisis and potential seizure of Ukrainian assets, however, are threatening investment.
Andrew Swiger, senior vice president at Exxon Mobil, told investors last week that the company's activities offshore Ukraine were on hold due to current circumstances.
Crimea is connected to Ukraine's gas infrastructure, not Russia's.
Should Crimea join Russia following the referendum, analysts say Ukraine would likely cut the region off its gas supplies, especially should Russia stop gas flows to Ukraine as it warned it may do after Ukraine on Friday failed to pay a gas bill.
If Crimea gets separated from Ukraine's gas grid, Russia could attempt to use the Black Sea gas fields to supply Crimea.
© Thomson Reuters 2014