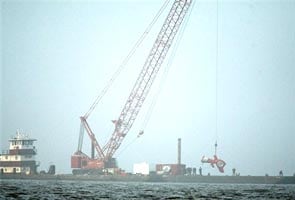 Mobile, Alabama:
US Coast Guard officials say they've begun the process of lifting a submerged helicopter from the floor of Alabama's Mobile Bay to the surface as they continue searching for three missing crew members after the aircraft plunged into the water.
Petty Officer Bill Colclough said Thursday morning that the effort started between 3 a.m. and 4 a.m. Rescue crews have said they need to raise the helicopter's fuselage to gain access to it, and find out whether the crew members are inside or somewhere at sea.
The MH-65C helicopter crashed on a training mission Tuesday evening near Point Clear. One crew member, the chopper's rescue swimmer, was found unresponsive and later declared dead.
Colclough says 95 per cent of Mobile Bay has been searched.