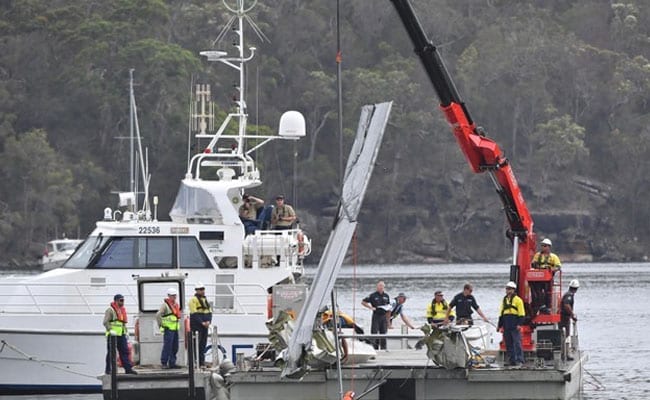 Sydney, Australia:
A seaplane that crashed into an Australian river, killing five British tourists and the pilot, was recovered Thursday as reports emerged of the aircraft's involvement in another deadly accident two decades ago.
The DHC-2 Beaver Seaplane was returning from a restaurant on New Year's Eve when it made a right turn and plunged into the Hawkesbury River north of Sydney.
Richard Cousins, the 58-year-old boss of catering giant Compass, his sons Edward and William, fiancee Emma Bowden and her daughter Heather Bowden-Page died alongside pilot Gareth Morgan, who was reportedly Canadian-born.
New South Wales state police Detective Superintendent Mark Hutchings said Thursday investigators could see the plane had sustained "severe damage" after they raised it from the water.
"It appeared that there's been quite an impact on hitting the water," he told reporters in Sydney.
Three key parts -- one wing, the floats and the fuselage of the single-engine aircraft -- were removed from the river and divers were working to recover the rest amid very poor underwater visibility.
The parts are set to be examined by engineering and maintenance experts from the Australian Transport Safety Bureau (ATSB), with a preliminary report into the crash due in 30 days and a final report within a year.
The "very complex operation" came as the Australian Broadcasting Corporation reported that the same plane was "destroyed" in a fatal accident in 1996, citing ATSB documents.
The plane -- built in 1963 and which was a crop duster at that time -- was involved in a serious crash near Armidale in NSW that killed the pilot, the ABC reported. Investigators could not pinpoint what caused that crash, but said it was likely the aircraft stalled.
The plane was later entirely rebuilt, recertified and owned by other businesses before it was bought by Sydney Seaplanes, which was operating the aircraft when it went down on December 31, Fairfax Media reported.
The ATSB's executive director of transport safety Nat Nagy said Thursday he was aware of the seaplane's history and it would be part of the current investigation.
"In terms of the state of the aircraft, we are reasonably confident that we will be able to do a thorough examination of the key components of the aircraft, to understand whether they were operating correctly at the time," he added.
The recovery also came as the brothers of Cousins, Simon and Andrew, arrived in Australia and thanked the public for "the outpouring of love and support we've received from across the world".
(This story has not been edited by NDTV staff and is auto-generated from a syndicated feed.)