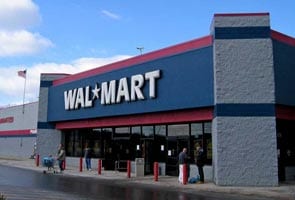 New York:
WalMart is one of the world's most successful companies and also one of its most controversial. Its model of global sourcing at a very large scale helps ensure that prices are low for customers. However, it can also result in vendors cutting corners on environment and safety standards to try and expand the razor-thin profit margins Walmart bargains them down to.
On November 25, 112 Bangladeshi garment workers, mostly women, were killed in a garment factory fire in Bangladesh. They were making clothes for international companies like Walmart, Sears and Disney. A supplier for WalMart Stores Inc. placed an order with garment-maker Simco Bangladesh Ltd. to produce 300,000 girls' shorts for shipment in two-weeks' time. Facing capacity constraints, Simco subcontracted the work to another company. Simco executives say this was without WalMart's authorisation. While an investigation has been ordered and its results are awaited, according to some media reports the doors of the factory had been locked to prevent workers from stealing garments.
According to New York City Councilman Daniel Dromm, "Walmart looks for low income countries to exploit the workers. They seek countries where workers will work for low wages and can be exploited. This fire happened because they were in a rush to get the order delivered. The contract was contracted out to another company and the standards there did not mean the acceptable standards."
In Jackson heights, a neighbourhood frequently described as Little India, South Asian labour rights groups are demanding corporate accountability. They say the US corporations have refused to compensate the families of the victims of the fire.
Maritza Silva-Farrell an organizer with ALIGN, an organization that works for social and economic justice for workers, has been opposing Walmart's efforts to open one of its giant stores in the Big Apple on charges that its wages are too low and its benefits insufficient.
According to Maritza, WalMart, which is America's largest private employer with 1.4 million workers, "does not pay workers living wages because it makes the products cheap and so it's a huge price workers are paying for you to get cheap prices in the store."
Walmart disputes this saying its pay and benefits are as good, if not better than, other chains that are unionised. Walmart employees are not part of a union. The chain recently filed an unfair labour practice charge against a group trying to get workers to protest who say its wages are too low and its benefits insufficient.
The fire in Bangladesh raises important questions for all developing countries. They clearly need the benefit of WalMart's business - whether it is in procuring from their factories or in investing in setting up supply chains and stores to serve the domestic market. WalMart has certain safety standards that its vendors are required to follow. It is possible the vendors are not following them. If Walmart is taking reasonable precautions, such as random audits and inspections, is it their fault that this happened? Or is it the fault of the Bangladesh government, since clearly Bangladeshi safety standards were also being violated? Can a company really be realistically expected to take responsibility for everything its suppliers do?
WalMart's aggressive pursuit of profit can do much good if there is a firm regulatory environment to clearly demarcate thresholds beyond which this aggression is unacceptable. Yet, in developing countries, where such environments are typically lacking, there is the risk of this good being accompanied by serious, and unacceptable damage. As India readies itself for the entry of large global corporations into multi-brand retail, it will need to pay serious attention to overhauling its regulatory systems to ensure that it avoids this risk.