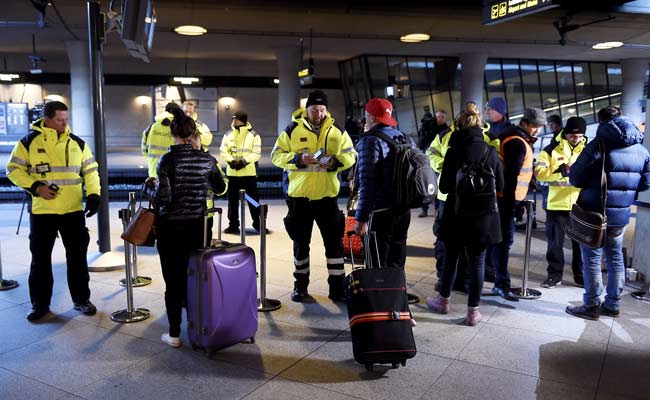 Copenhagen, Denmark:
A controversial Danish law allowing police to seize valuables from refugees came into force today, with the government's guidelines to police exempting wedding and engagement rings from the searches.
Other items of sentimental value will be excluded if they are "associated with a particular personal story that means the object cannot be replaced by another one," the integration ministry said in the document.
Before any search, migrants will be asked to hand over any cash or valuables they had brought with them.
"The inspection can be performed by patting and feeling the foreigner's clothes and checking their pockets," the ministry said.
Police were allowed to undo the upper buttons of a shirt and roll up a person's sleeves, but "undressing or entry into the human body" was off limits, it said.
"Police can look through and investigate bags and suitcases... (and) bags and suitcases can be emptied for the purpose of inspection of the contents," it said.
The head of Denmark's police union, Claus Oxfeldt, said he didn't think the result of the searches would be "extensive".
"We are to pat people down like when we make arrests (and) ensure that people do not carry weapons," he told news agency Ritzau.
"I cannot imagine that there will be a lot of jewellery that we will confiscate," he added.
Danish lawmakers last month adopted the new rules as part of a package of reforms aimed at dissuading migrants from seeking asylum in the country, which included delaying family reunifications for some refugees by three years.
Critics likened the proposals to the confiscation of gold and other valuables from Jews by the Nazis during the Holocaust.
After thorny negotiations with the other parties, Copenhagen's minority right-wing government agreed to exempt wedding rings and other items of sentimental value from the searches.
It also raised the limit for how much cash a migrant can keep, as well as the value of any individual item they can keep, to 10,000 kroner (1,340 euros, $1,450) from the initial 3,000 kroner proposed.
Prime Minister Lars Lokke Rasmussen has defended it as "the most misunderstood bill in Denmark's history", emphasising that Danes seeking to qualify for social benefits sometimes also have to sell their valuables.
Home to 5.6 million people, Denmark registered 21,000 asylum applications in 2015, making it one of the top EU destinations per capita for migrants after Finland, Austria, Germany and Sweden.