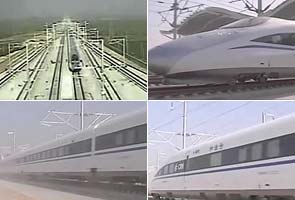 Beijing:
China's newest high-speed train - the "CRH380A" - broke the world record for the fastest passenger-capable train on Friday during an operational test, the Chinese Ministry of Railroads claimed.
The test was broadcast live by state broadcaster CCTV.
The train was measured to have hit a maximum speed of 486.1 kilometres per hour on special tracks between the Zaozhuang city and Bengbu to the south, according to the Xinhua News Agency.
The track is a segment of the Beijing-Shanghai high-speed rail line China hopes to have operational by July 2011.
The Beijing-Shanghai line, once completed, is anticipated to bring the travel time between the two cities down under five hours, making the train faster than flying in practical terms since distant suburban airport locations, security and boarding times add to the two and a half hour flight.