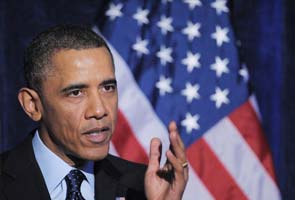 Beijing:
China's new President Xi Jinping and US President Barack Obama held telephone talks Thursday on the expansion of ties, cyber-security and the situation in North Korea, state media reported.
Mr Obama congratulated Mr Xi on his new appointment after he was named president by China's parliament and said US-China relations faced an historic opportunity for future cooperation, the Xinhua news agency said.
"Xi said China and the United States have enormous common interests, but also differences," Xinhua reported.
"He emphasised that as long as the two sides follow the spirit of mutual respect, openness and tolerance, China and the United States will be able to achieve more in the Asia-Pacific region and to turn the Pacific into an ocean of peace and cooperation."
The two leaders also discussed cyber-security and North Korea, Xinhua said. "Xi expressed China's principles and positions on those issues," it reported without giving further details.
Mr Obama on Wednesday had stepped up rhetoric on the issue of hacking, saying cyber threats affecting US firms and infrastructure were increasing, with some being "state sponsored".
"I can confirm that the president spoke with President Xi today and he congratulated President Xi on his new positions," White House spokesman Jay Carney said.
"This is a very important relationship and a very important series of issues that we deal with on a regular basis with the Chinese government."
Asked whether Mr Obama discussed cyber-security, Carney said that US officials, at all levels, constantly bring up issues of greatest contention between Washington and Beijing.