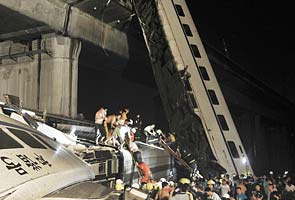 Beijing:
China today implemented a new operation plan for all high-speed trains across the country by cutting down their speed to address the safety concerns, a move that comes following last month's deadly rail crash.

The rescheduled plan involves 498 trains and major rail lines such as Beijing-Harbin, Beijing-Guangzhou, Beijing-Shanghai and Lianyungang-Lanzhou lines, according to the Ministry of Railways.
As of earlier this month, high-speed trains between Beijing and Tianjin and between Shanghai and Hangzhou have been running at 300 km per hour, down from 350 km per hour, state-run news agency 'Xinhua' reported.
Other high-speed lines adopted the new plan today. Also, 54 bullet trains have been recalled for inspection following safety concerns relating to their automatic brakes.
After the readjustments, lines that had trains running at 250 km per hour, will run them at 200 km per hour, including high-speed lines between Hefei and Nanjing, Hefei and Wuhan and Shijiazhuang and Taiyuan.
Other fast trains that run at 200 km per hour will be slowed to 160 km per hour, it added. Over the course of more than a month, railway authorities have readjusted the operation plan of railways after a deadly train collision killed 40 people in the city of Wenzhou in east China's Zhejiang Province on July 23.
Last month's crash was largely attributed to failure of signal equipment. China's Cabinet, ordered overall safety checks on high-speed railways after the fatal train accident and suspended approval of new railway construction projects.
Ticket prices will be reduced by 5 per cent on the affected lines, according to the ministry.