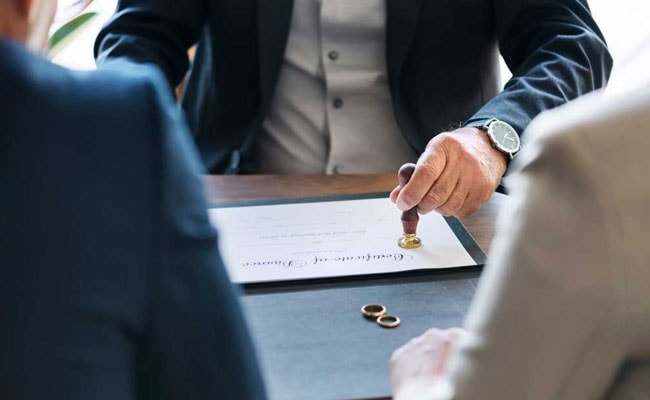 Beijing:
Chinese courts are imposing 'cooling-off' periods to couples seeking legal separation to reconsider their decision in a bid to check the sharp increase of divorce rate in the country.
In the past two years, cooling-off periods -- lasting from two weeks to three months -- have been imposed on couples filing for divorce in 118 courts across Beijing and Sichuan and Shandong provinces, the state-run China Daily reported today.
The move is part of a two-year pilot programme to reform hearings involving domestic disputes implemented by the Supreme People's Court in 2016.
During the period of reflection, courts do not deliver any verdict and instead investigate the family's situation or offer marriage counselling to couples, the report said.
The move came in the wake of divorce rate rising rapidly since 2002 in the Communist nation. As per a Ministry of Civil Affairs data, over four million couples in China ended their marriages in 2016, while between January and June last year, 1.85 million couples had filed for divorce.
Guo Jie, a judge at the Intermediate People's Court at Sanming in Fujian province, welcomed the cooling-off period, saying that the concept has played a major role in alleviating conflict, especially between newly-weds and couples having children aged 16 or younger.
However, she noted that cooling-off period would not be appropriate for all divorce proceedings, especially those involving domestic violence where approvals are usually granted without delay.
Some critics argue that the move interferes with the freedom to divorce, but Wang Peng, a judge's assistant at Dongcheng District People's Court in Beijing, said the final decision lies solely with the litigants.
"The period of reflection doesn't mean that a couple must remain married. In fact, some people spend the time clarifying the division of property and arranging child support. We want to solve domestic disputes effectively and minimize the damage to litigants, not interfere in their decisions," he said.
Chen Aiwu, a law professor at Nanjing Normal University in Jiangsu province, said it is essential for courts to establish that a marriage can be saved before they impose a period of reflection.
"If some litigants display extreme behaviour before going to court, such as threatening to commit suicide, judges should provide psychological aid, not mediation," he said.
(Except for the headline, this story has not been edited by NDTV staff and is published from a syndicated feed.)