The refugee crisis shaking the world has come to be narrowly defined as Syrians fleeing the war, trying to enter Europe. But the ones trying to enter the West are only a small fraction - less than 10 per cent of the millions of refugees for whom Europe remains out of reach. All this week, on Exodus, a special series on NDTV, we trace the invisible roots of the refugee crisis from its point of origin. This is the first of a series of reports, from the war-torn Syria-Turkey border.
SURUC, TURKEY: In a town at the edge of a country at war, we met 12-year-old Xemgin. Stacking shelves in a cloth shop in Suruc, a dusty Turkish town just a few miles from the border with Syria, Xemgin is from Kobane, the Syrian border town overrun by ISIS in October 2014, ensuing in a bloodbath and thousands fleeing.
Xemgin's family was one of them and among the millions of Syrian refugees in Turkey, many of them impoverished - the invisible majority in the migrant crisis roiling the world. For eight hours of work, six days a week, Xemgin earns a pittance - just 20 Turkish lira (less than USD 10) a week.
He told us he misses school in Kobane, where he learnt science, math and history, but there is little choice.
Across the road, in a tiny sewing shop, is Mohammed, also from Kobane and like Xemgin, no longer in school. The 13-year-old has a new skill - stitching curtains to be sold in the local market.
Mohammed works 8-10 hours every day and his wages are the same as Xemgin. Nearby is 13-year-old Khaled - looking older in his striped white shirt - who has learnt how to operate an embroidery machine. He told us he has been working at the shop for the last three years, which means he started at 10.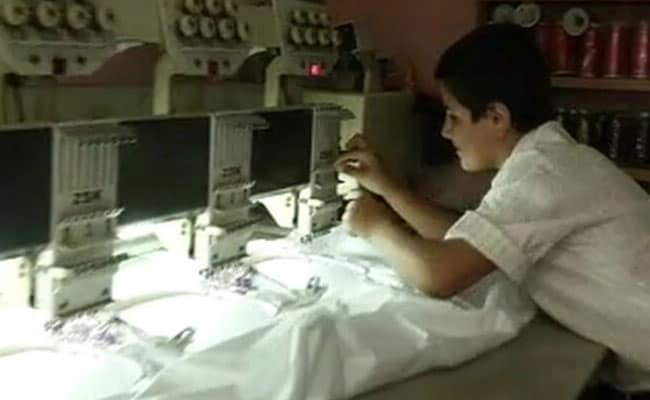 For this experience, he has earned a small wage increase: from 20 to 50 liras a week. Khaled and the others are not the only ones. In the bazaars of Suruc, the children of Kobane are everywhere, working long, hard hours, at slave-like wages.
Their employers claim that the children are getting a fair deal. Mohammed's employer said that Suruc is not a wealthy town, and what he pays is sufficient. But the minimum wage in Turkey is 1000 Liras per week and the children barely earn 2 per cent of that. Child labour is illegal.
Prompted by adults, some of the children told us that there are no proper schools for Syrian children in Turkey. The medium of instruction is Turkish or English, which Syrian children, familiar with Arabic, are not able to comprehend.
The more compelling reason, though, is hardship. In a rundown neighbourhood of Suruc, we met Khaled's parents. Their story is harrowing. They lived in Raqqa, the Syrian town now serving as a de facto capital of the ISIS, before moving to Kobane, where the terrorist group followed them, and now here.
Khaled's father Mustafa, a plumber, said he had little choice but to make his son work. "For a job, a Turkish plumber gets 700 lira while I would only get 400 lira for the same job," he said.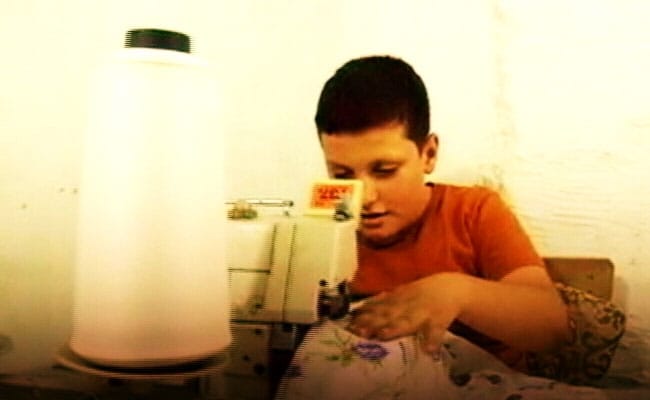 Mustafa struggles to scrape a living, supporting his wife and four children of whom Khaled is the eldest. Pointing to a t-shirt that Khaled's younger brother was wearing, their mother said it was bought in Syria three years back. "We cannot afford new clothes," she said.
Turkey, on its part, has tried to help, spending close to seven billion dollars to care for the nearly 2.5 million Syrian refugees inside its borders. The Syrian war has left an estimated four million people outside its borders.
Only a fraction - about 10 per cent - make it to the West but the popular narrative is that Europe is swamped with Syrian refugees, a distortion that angers Turkey.
In a grudging admission of this asymmetry, a meeting of European leaders in Brussels last week discussed greater funding for Turkey's efforts to host Syrian refugees. But Sebnem Ackapar, a migration expert who teaches at the South Asian University in New Delhi, says promises of money have so far not materialized. "Turkey has received only USD 417,000 from the international community," she said.
Khaled's parents, and most others like them, are unlikely to land up at Europe's gates. They just cannot afford it.
As we found when we travelled to the Syrian border at Kobane, those who left cannot return home anytime soon. The town is back under the control of the Kurds, who are fighting both the ISIS and Bashar al-Assad's regime, but large parts remain devastated; ISIS lurks in the nearby countryside.
Like Khaled, Mohammed and Xemgin, three-year-old Aylan Kurdi - whose image lying lifeless on a beach in western Turkey shocked the world - was also from Kobane. His family's attempt to spirit him away to a better life ended in a tragedy when their boat capsized in the Aegean Sea between Turkey and Greece.
But as we found in the markets of Suruc, the choices for those refugees who stay back are hard, even harder for the very young.