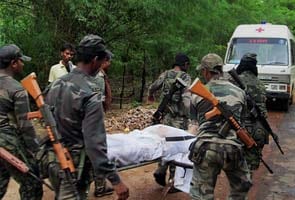 New Delhi:
After the grieving, a re-look at strategy. The Centre is holding a series of internal meetings to rework its plan on battling Maoist activity in the heart of the country, termed for the first time by a senior minister as "terrorism".
This review of strategy comes amid an intense political blame-game over the massacre in Chhattisgarh of 24 people, including top Congress leaders of the state, by Maoists on Saturday last.
The Congress-led UPA government, which had earlier suggested talks with Naxal leaders to find a solution, now say that time is past. Two union ministers have indicated this policy shift.
Union minister of state for home RPN Singh told NDTV, "We are going to re-think our policy as far as Naxalism is concerned. Mr Chidambaram when he was the home minister had asked for talks with the Naxals after they laid down their arms. That period of talk is over; it is very evident that they are not interested in talking. The government of India is going to ensure that the rule of law is enforced and Naxalism is wiped out from its roots."
His senior colleague, environment minister Jairam Ramesh, who has in the past been seen as having a soft approach on Maoists, was as unequivocal that was no room for talks anymore. Calling them terrorists, he said, "it's very clear that the Maoists don't believe in the political process, they don't believe in our democracy, they don't believe in our constitutional values, so what do we talk about and whom do we talk to?"
The BJP, whose Raman Singh is the Chief Minister of Chhattisgarh and has been accused of not ensuring enough security for the convoy of cars carrying Congress leaders which was ambushed by Maoists on Saturday last, has said that parties must go beyond a political blame game and combat Naxalism with a "unified strategy."
The party's Ravi Shankar Prasad said, "Do we consider Maoism as a simple problem of law and order? They are killing leaders of the CPM, BJP, Congress. They want to kill the democratic process in the country. How do you deal with them? Only by talking, or some tough measure as well?"
In Chhattisgarh, heads are rolling. Three days after the deadly attack, the Raman Singh government suspended the Superintendent of Police in Jagdalpur and transferred the Inspector General of Police in Bastar. VIP security has been handed to the Director General of Police of the state.